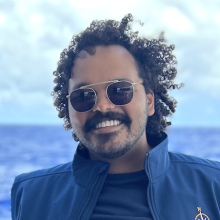 Treyson Gillespie
He/Him
Navigator
Surveyor/ Graduate Student
Lowcountry Hydrographic, LLC/ College of Charleston
Tell us about your work/ research. What kinds of things do you do? 
I am an independent contractor specializing in seafloor mapping and bathymetric analysis. I work with governmental agencies, educational institutions, and private companies to collect, clean, and interpret the various data sets that are produced from our efforts. It's very exciting to be exposed to, and get to participate in, a wide range of science from general habitat characterization to ROV operations and sometimes even biological sampling. I'm currently pursuing a Masters of science where my thesis is focused on generating educational training modules for undergraduate students at the College of Charleston participating in the BEnthic Acoustic Mapping & Survey (BEAMS) program.
What sparked your initial interest in your career?
I had the opportunity to participate in a field experience that initially sparked my interest in geology. Though I came to undergrad as a marine biology major, after taking a few geology labs and classes I knew that I was hooked and I realized that marine geology was way more interesting than I had thought. I find the geological processes that shape the earth incredibly fascinating, and being able to use the properties of sound to remotely sense the evidence of those processes thousands of meters under the ocean is even more incredible.
Who influenced you or encouraged you the most?
I'm very grateful that I have had several incredible educators throughout my academic and professional careers that have instilled in me a passion for science, learning, and the power of collaborative effort.
What element of your work/ study do you think is the most fascinating?
I think the entire concept of using sound to remotely map the ocean floor is amazing. It's incredible to me that, from a relatively small vessel, we can visualize 1000s of meters of the seafloor in a single ping of sound. It boggles my mind to think of what we might discover in the deep, unknown parts of our oceans as mapping technology increases.
How did you get involved with the Nautilus Exploration Program?  
I was introduced to Ocean Exploration Trust through several friends and colleagues who had participated on different cruises in previous years.
What other jobs led you to your current career? 
Unfortunately, this career was quite the shift in direction for me once I decided to pursue geology and seafloor mapping as a career. In high school I was not very science focused and spent my time mostly on music performance, performing in concert bands, marching band, and drum & bugle corps. What I didn't realize during that time was how much practical understanding of the physics of sound I had received. When I got to my undergraduate degree and began take classes on remote sensing with sound, I had personal, real-world examples of these properties in action. It really helped me to make sense of a lot of the acoustic theory I had to learn when beginning my career.
What are your degrees and certifications?
Bachelors of Art in Geology & Environmental Geosciences - College of Charleston; 
Masters of Science in Environmental Sciences & Sustainability Studies - College of Charleston (In Progress)
What are your hobbies?
I'm a big fan of biking, both road cycling and mountain biking. I spend a lot of time at the beach and in the back-barrier systems near my home exploring the intertidal marshlands of South Carolina. I spend most of my time at home trying new recipes enjoying them on the patio, playing video games, and listening to music.
What advice would you give someone who wants to have a career like yours?
To those seeking a career in this field, I would recommend finding opportunities related to ocean science in whatever form that is accessible to you. Internships, part-time work, and volunteering in related disciplines can all lead to incredible careers within the field. Remember to self-advocate, you have to be your biggest fan and the person most confident in your ability to take on the role. I'd suggest treating every day like a school day, we're always evolving and there's always an opportunity to learn something new. That new skill may be the key to future success. And finally, I'd say to remember that we're all in this together. Success comes when the diversity of knowledge, thought, specializations, backgrounds, and focus their individual strengths into a collective effort - learning how to work with other people and embrace their contributions will always lead you to success in my opinion.
Expeditions
Treyson participated in the following Ocean Exploration Trust expeditions: