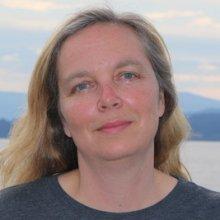 Tammy Norgard
Science/Data Team
Deep Sea Ecology Program Head / Chef du programme Écologie des grands fonds
Fisheries and Oceans Canada / Pêches et Océans Canada
Tell us about your work/research. What kinds of things do you do? / Parlez-nous de votre travail / vos recherches. Quels types de tâches effectuez-vous?
I evaluate benthic habitats and species distribution with mapping/models of offshore seamounts. I collaborate with academics and First Nations to gather baseline and monitoring data, ecological monitoring. We are completing a large research program to support the evaluation of the large offshore area of interest off the West Coast of Canada. The information for this work will be used in establishing baseline information on the species and habitats within this area as it is moved forward for protection.
J'évalue les habitats benthiques et la répartition des espèces à l'aide de cartes/modèles des monts sous-marins extracôtiers. Je collabore avec des universitaires et les Premières Nations afin de recueillir des données de base et de suivi, et d'effectuer une surveillance écologique. Nous menons un vaste programme de recherche visant à appuyer l'évaluation de la grande zone d'intérêt extracôtière au large de la côte ouest du Canada. Dans le cadre de ces travaux, les renseignements seront utilisés pour obtenir des renseignements de base sur les espèces et les habitats au sein de cette zone, alors qu'elle s'apprête à être protégée.
What sparked your initial interest in your career? / Qu'est-ce qui a initialement suscité votre intérêt dans votre domaine professionnel?
I started in Marine Biology because as I child I was fascinated by all the amazing creatures I would see during the low tides.
Comme j'étais fascinée par les créatures incroyables que je voyais durant les marées basses quand j'étais enfant, j'ai entamé des études en biologie marine.
Who influenced you or encouraged you the most? / Qui vous a influencé ou encouragé le plus?
My colleagues and peers
Mes collègues et mes pairs
What element of your work/study do you think is the most fascinating? / Quel élément de votre travail ou de vos études est le plus fascinant selon vous?
I think that being able to share with the world what we are seeing and the science we are doing is amazing!
C'est formidable de pouvoir partager avec le monde entier ce que nous observons et les travaux scientifiques que nous accomplissons!
What other jobs led you to your current career? / Quels autres emplois vous ont amenés à votre carrière actuelle?
I started my career out working with a biologist for First Nations communities. In this work, I got to work on many different projects but I always tended to end up working back with invertebrate species. In recent years my I began to work on Species at Risk and invasive species which has now lead me to work in a program where we striving toward conservation and sustainable use of our oceans.
Au début de ma carrière, je travaillais comme biologiste pour des communautés des premières nations. Ce travail m'a amené à travailler sur plusieurs projets différents, mais, finalement, j'avais toujours tendance à recommencer à travailler sur des espèces invertébrées. J'ai récemment commencé des travaux sur des espèces en péril et des espèces envahissantes, ce qui m'a finalement amené à travailler pour un programme visant la conservation et l'utilisation durable de nos océans.
What are your degrees and certifications? / Quels diplômes et titres de compétences possédez-vous?
BS in Biology from University of Victoria
B. Sc. en biologie de l'université de Victoria
What are your hobbies? / Quels sont vos passe-temps?
I love to go boating, play squash and swimming.
J'aime faire du bateau, jouer au squash et nager.
What advice would you give someone who wants to have a career like yours? / Quel conseil donneriez-vous à quelqu'un qui souhaite faire la même carrière que vous?
Follow our interests and strive to find ways to participate/volunteer in activities where can continue to work on those interests. Often it is one of those experiences that lead to work and work leads to careers in the field of your choosing.
Renseignez-vous sur ce qui nous intéresse et trouvez des façons de participer (même bénévolement) à des activités où vous pourrez continuer à travailler sur ces centres d'intérêt. Souvent, c'est une de ces expériences qui mène à un travail et ce travail qui mène à une carrière dans le domaine de votre choix.
How did you get involved with the Nautilus Exploration Program? How did you get on the ship? / Comment vous êtes-vous impliqué dans le Nautilus Exploration Program? Comment êtes-vous monté à bord du bateau?
Ocean Networks Canada's Partnership with OET has made this possible
C'est le partenariat entre Oceans Network Canada et l'Ocean Exploration Trust (OET) qui a rendu cela possible.