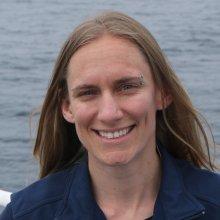 Tammy Gomez
She/Her
Video Engineer
Video Engineer/Marine Biologist
Independent Contractor
Tell us about your work/research. What kinds of things do you do?
I have always been drawn to the subjects most people would try to avoid. When it comes to video work, I usually am the one behind the scenes producing and coordinating; essentially all the organizing and paperwork, making sure everything goes as smoothly as it can. As a video engineer, I get to take that a step farther and work on various research vessels conducting the live stream, wiring the vessel with cameras, audio, and other feeds for broadcast, conducting and editing interviews and documenting daily activity and research aboard the vessel. As a personal trainer, I help individuals and groups achieve their health and fitness goals. I like to make the gym an enjoyable place for members to come to and look forward to coming to. I specialize in endurance, triathlete, swimming, sports specific, functional, and weight loss training. I also teach group training classes, swim lessons for all levels, and aqua aerobics.  
What sparked your initial interest in your career?
Growing up in the Midwest, I did not get to see the ocean often but have always had an interest in water. I mean; ANYTHING to do with water. So I watched all sorts of documentaries on the ocean. Ever since I can remember, I wanted to be able to see how the documentaries were made and thought it would be so amazing to be a part of that. In the fourth grade, my family took a trip to Florida, and I was so excited to finally see and feel the ocean. From then on I knew I was going to move out of my small town in Wisconsin and live on the coast to study the ocean and video would be a hobby on the side. A couple years into my marine biology degree, I developed a fondness for being in the lab and doing all the tedious aspects as well as out in the field and realized I could work with both my interests of video and marine biology.
Who influenced you or encouraged you the most?
I decided that I was going to do marine biology and video around my Sophmore/Junior year of high school. I do not know if there is any one person who influenced me, but it was more that I set my mind to what I wanted to do; explore the ocean and it's findings through video, and not settling until I was doing just that. I would say the lack of people I met along my journey that knew of anyone working with marine biology and video in one job (or did not think it was feasible) drove me the most; I wanted to prove to them that I could do it. I am the happiest working when I get to combine my passion for the ocean and the technology of video to let others see and explore the ocean with me.  
What element of your work/study do you think is the most fascinating?
I love telling people what I do when I am not training. When I explain to people that I also go out to sea to aid in deep-sea research as a video engineer and a marine biologist their eyes light up. Most do not realize how complex and undiscovered the ocean is and I am proud to say I am a part of that exploration. Having such an array of interests and backgrounds (marine biology, video production, and personal training) and being able to use them all in my daily work, I think is fascinating.
What other jobs led you to your current career?
I started my professional career right after my first undergrad as an Oceanography Lab Instructor in Hawaii with John Hopkins Center for Talented Youth. That turned into a year round University Lab Assistant position. Then one day I decided I was going to go to school full-time to get my video production degree, so I moved to Washington. I had several small video gigs as an Intern, Production Assistant, Production Coordinator, and Producer, as well as volunteering at the Seattle Aquarium all during school. But the short documentary that really got my foot in the door was "The Shipwrecks of Lake Union: Seattle's Hidden History." Directing this short film really helped me learn the way and opened my eyes to what I really was capable of doing. It was amazing to see how fascinated people were with the little bit of history and information we were able to show in such a short video. Shortly after that documentary, I was contacted by Mumbian Enterprises to see if I would be interested in a Science Video Engineer position aboard the R/V Thomas G. Thompson.
What are your degrees and certifications?
Bachelor of Science in Marine Biology—Hawai'i Pacific University 2007; Bachelor of Fine Arts in Digital Filmmaking and Video Production—Art Institute of Seattle 2012; National Council of Strength and Fitness Certified Personal Trainer; PTA Global NCCA Accredited Certified Personal Trainer; CPR/AED and Standard First Aid certified
What are your hobbies?
Oh too many to list…swimming, paddle boarding, traveling, running, camping, hiking, surf, basketball, crafting, wine tasting, photography, organizing, and it goes on. I am usually a person that has some level of interest in everything and anything especially if it is active or competitive.
What advice would you give someone who wants to have a career like yours?
Patience. Follow your dreams and do not be afraid to be a little picky. If you stick with it, work hard, you can get the job you have always wanted. Do not be afraid to fail, keep at it, the more practice and experience you get the better you will be. Remember that the world technically and scientifically is always changing so be prepared to learn and adapt as you grow with your career. Most importantly, make sure you are happy.
How did you get involved with the Nautilus Exploration Program? How did you get on the ship?
I was initially contacted due to my unique combination of degrees for another video engineering job aboard a research vessel, met with the video engineer, applied to the job, and got it. I loved being out on the boat and working with such an array of people from all over the world and kept in touch. My boss, now the head of video operations, works with several vessels and remembered how much I loved the job and he referred me to the Nautilus. 
Expeditions
Tammy participated in the following Ocean Exploration Trust expeditions: