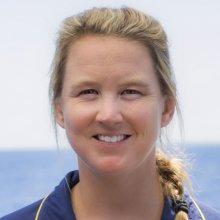 Summer Farrell
Argus Pilot
Technician
Resolve Marine
Tell us about your work/ research. What kinds of things do you do? 
I am an electronics & survey technician. I work with topside & subsurface positioning equipment, hydrographic survey equipment, and small ROVs.
What sparked your initial interest in your career?
I grew up loving the water. Born & raised in South Florida, I was always drawn to all types of water activities and grew a deep appreciation for the ocean.I love being on the water and knew whatever my occupation was, it was going to involve being on, near or in the water. Another interest of mine has been in electronics. I am constantly amazed by the variety of devices available today and how fast technology improves. I find satisfaction in troubleshooting and fixing broken things and bask in the victorious feeling that comes from a confirmation screen when you made two devices talk to each other. I have to insert an asterisk here, as all the joy-basking & success doesn't come without its fair share of heartache and setbacks. My motto is "the more you burn, the more you learn". I think its safe to say what "sparked" my interest was seeing ROVs on TV and youtube while I was working at a marine salvage company. I was thinking how a lot of the jobs could be complemented or made safer by using them instead of human divers for tooling & rigging operations. Tying it all together, the stars aligned and I have been lucky enough to combine the best of both of my worlds and have a career that involves both the ocean and technology.
Who influenced you or encouraged you the most?
My dad has always been up on the latest and greatest in technology, and he has been very supportive of my interest in the field of technology. 
What element of your work/ study do you think is the most fascinating?
Traveling the globe is definitely one of the perks in this line of work, along with meeting some very intelligent people who share some crazy-interesting facts from their fields. I am usually always amazed by things I learn from people I end up working with. It is rare I walk away from a month-long trip, without having learned about a thousand new things.
How did you get involved with the Nautilus Exploration Program?  
I heard about the ROV internship program from working at a marine salvage company and was onboard after that!
What other jobs led you to your current career? 
The first professional step I took into my career path was volunteering at the Bimini Biological Field Station "Shark Lab" in the Bahamas. I assisted with and studied lemon shark behavior & population studies, along with the ecology in that area. As I said, you will always find me around the water, so the obvious next few jobs were lifeguarding, marina dock attendant, submarine technician, small boat captain & water sports manager.
What are your degrees and certifications?
I have a bachelors in Marine Affairs - University of Miami 2012; OUVP 6Pak Boat Captain, A.S in Engineering Technology - B.C 2016; Padi SCUBA, Multi Engine Instrument Pilots License
What are your hobbies?
I enjoy playing with my dog Porter, biking & beach volleyball
What advice would you give someone who wants to have a career like yours? 
Say yes to every opportunity that comes up. You will be amazed at the variety of things others can teach you and may lead you to your dream job. 
Expeditions
Summer participated in the following Ocean Exploration Trust expeditions: