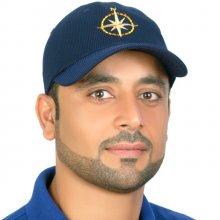 Sulaiman Al'Sibani
Navigator
Captain
Sultanate of Oman
Tell us about your work / research. What kinds of things do you do?
I have been sailing on different naval ships for more that 13 years. My first post onboard was a navigator, then I have done many other posts on different ships. Nautilus is one of these posts and I think it is the most exciting one so far. 
What sparked your initial interest in your career?
Exploring the world was my dream since I was a kid. I grow up in a city which was away from sea, so the oceans were the most undiscovered thing to me during my childhood. Because of that, my passion to explore the world by the sea was unlimited and I think I am in the Moving in the right direction to achieve my dream. 
Who influenced you or encouraged you the most?
Every thing around me was pushing me towards the challenges and achieving my dream.
What element of your work / study do you think is the most fascinating?
The most fascinating things I have come across is to fully understand the nature and then predict the future in order to develop the human life and also managing to protect the world from any disaster or crisis in future.    
What other jobs led you to your current career?
I have started my career as a navigator and I kept within the same field just moving forward and improving myself day after day.
What are your degrees and certifications?
Master degree in Maritime Studies from Portsmouth University (UK)
What are your hobbies?
I enjoy diving very much, and I go fishing sometimes. I like to play Jujitsu which I think is a great sport and enjoying a nice cup of coffee.   
What advice would you give to someone who wants to have a career like yours?
Life in the blue water is always fun if you can manage your life correctly. So if you are interested, I would recommend that you  be patient in the first few years having no other commitments, then things will be much easier and even more fun after that.     
How did you get involved in the Nautilus Exploration Program? How did you get on the ship?
My friend from the naval college who was leading the navigators onboard Nautilus was telling me a lot about the amazing Nautilus research and exploration. I was very interested and kept following Nautilus for more than two years, till he came up to me and said: would like to join us next year?! So I have started joining Nautilus since 2012 and I am so proud of it. 
"I am very keen to be a part of the exploration taking place this summer, especially working with such a professional and well organized team. I have always believed that the oceans are the best place to explore, learn and develop. Working with Nautilus gives me the unforgettable pleasure of exploring the seas and helping science to develop."
Expeditions
Sulaiman participated in the following Ocean Exploration Trust expeditions: