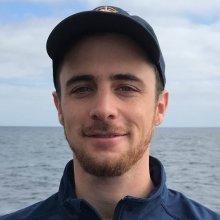 Stephen Matter
Video Engineer
Graduate Alumnus
University of the West of England
Tell us about your work/research. What kinds of things do you do?
I am a freelance camera operator. After completing undergraduate studies in 2011, I began working as a production assistant and gradually worked my way into the camera department on films, commercials, and television programs. I have worked in 15 countries across 4 continents. Most of my current work is on-location for factual television and documentary films. 
What sparked your initial interest in your career?
It has been my dream to be a wildlife filmmaker since high school. In middle school got my first video camera to film skateboarding with my friends. I enjoyed shooting skateboarding and comedy sketches with my friends so much that in high school, I chose Television Production as my elective course over other classes like Band, Theatre, or Fine Arts. I had always been fascinated by and drawn to the natural world. So, when the wildlife film series, Planet Earth, was released during my senior year, I watched the behind-the-scenes segments and knew there was nothing I'd rather do with my life. In college, I majored in Film & Television and also enrolled in Biology classes, with the idea that I would someday join the two subjects. 
Who influenced you or encouraged you the most?
My parents have always encouraged me to chase my dreams. My Dad is an outdoor enthusiast and sparked my interest in nature. Also, a former boss of mine from a food service job, Chef Tony, taught me a lot about work ethic, challenged me, and gave me a lot of confidence.
What element of your work/study do you think is the most fascinating?
Documentary filmmakers are granted intimate access to other worlds that we would otherwise be clueless about. I've spent days, weeks, or months in the worlds of police, athletes, chefs, birds, addicts, and scientists, just to name a few.
What other jobs led you to your current career?
I always seek out camera jobs that are science or nature related. In 2012 I l made videos for Pali Institute, an outdoor education camp 7,000 feet up in the mountains of Southern California. I've also worked on crews for science-related documentaries and television programs like Science Channel's Through the Wormhole with Morgan Freeman, NatGeo's Breakthrough, and BBC's Autumwatch.
What are your degrees and certifications?
Bachelor of Science in Film & Television with a Liberal Arts Concentration in Biology -- Boston University 2011; PADI Open Water Diver-- Boston SCUBA 2015; Master of Arts in Wildlife Filmmaking (Distinction) -- University of the West of England 2017
What are your hobbies?
I love skateboarding, snowboarding, photography, and exploration of wild places. 
What advice would you give someone who wants to have a career like yours?
Whatever you're doing right now, even if it's not your dream job, put your full effort into it. Learning to work hard is more important than any one skill. Once you've developed a good work ethic, skills become easier to pick up. Then, when somebody gives you a chance, take it and show them what you are capable of!
How did you get involved with the Nautilus Exploration Program?
I met wildlife camera operator and Nautilus Video Engineer, Erin Ranney, while we were both volunteering at the Jackson Hole Wildlife Film Festival in 2017. She encouraged me to apply for an internship with the Nautilus Exploration Program. I looked up the program, got super excited, applied, and was accepted in 2018.