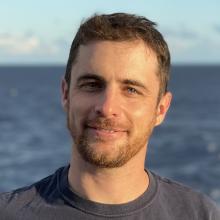 Stephen Matter
He/Him
Video Engineer
Freelance Camera Operator
Tell us about your work/research. What kinds of things do you do?
I am a camera operator who specializes in documentaries about science and wildlife.
What sparked your initial interest in your career?
Growing up I watched a lot of wildlife documentaries. The behind-the-scenes footage was always my favorite, and I knew that doing that type of filming, in wild places, was my dream job.
Who influenced you or encouraged you the most?
I've had a a few teachers and a few "bosses" that encouraged me and challenged me to achieve more. Their confidence in me gave me confidence in myself.
What element of your work/study do you think is the most fascinating?
On my first ever Nautilus dive, as a Video Intern, we found the largest octopus nursery ever recorded. It's moments like these, seeing things that few people (or no people) have ever seen, that are most rewarding. Sometimes its from the Nautilus control van. Other times its through a telephoto or macro lens on my camera out in the wilderness.
What other jobs led you to your current career?
After graduating from film school in 2011, I worked in all types of freelance roles across the film and television industries. I always searched for jobs related to science and nature. In 2012 I made videos for a children's science and nature camp in Southern California. In 2016 I began graduate studies in Wildlife Filmmaking in Bristol, England. That program opened a lot of doors into more science/wildlife related jobs with EV Nautilus, National Geographic, BBC, and more.
What are your degrees and certifications?
Bachelor of Science in Film & Television -- Boston University 2011
Masters in Wildlife Filmmaking -- University of the West of England 2017
What are your hobbies?
I love skateboarding, snowboarding, wildlife photography, and hiking. 
What advice would you give someone who wants to have a career like yours?
Even if you don't have you're dream job yet, focus on learning and mastering new skills. And get used to working hard. Some day you'll get an opportunity, and that work ethic and mental flexibility will pay off in a big way.
How did you get involved with the Ocean Exploration Trust?
In 2017 I met a Nautilus Video Engineer, Erin Ranney, at the Jackson Hole Wildlife Film Festival. I was in graduate school at the time, and she encouraged me to apply for the Nautilus Video Engineering Internship. I took her advice and joined my first Nautilus expedition in 2018. In 2019 I was hired as a Video Engineer, and 2020 is my third year going to sea.
Expeditions
Stephen participated in the following Ocean Exploration Trust expeditions: