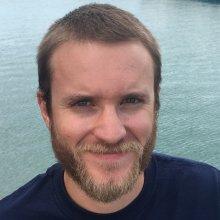 Stephen Escarzaga
Seafloor Mapping Intern
Graduate Student / NOAA-CESSRST PhD Fellow / Research Assistant
Systems Ecology Laboratory / The University of Texas at El Paso
Tell us about your work/research. What kinds of things do you do?
Alaska has, by far, the largest coastline in the United States and one that, as temperatures in the Arctic increase and sea-ice extents diminish, is arguably the most vulnerable and impacted. Understanding how these external pressures are driving coastal erosion is vital to facilitating coastal zone management and tracking how nearshore environments are being impacted by increases of terrestrial organic carbon stocks and mobilized sediments. My research interests revolve around the mapping, characterization, and monitoring of coastal and nearshore dynamics in arctic coastal regions via the use of remote sensing techniques; particularly in the Native coastal village of Utqiagvik, Alaska and the Beaufort and Northern Chukchi coasts in general. I spend our 3-month field seasons in Utqiagvik collecting many different kinds of geospatial and remote sensing data such as terrestrial laser scanning (TLS) data, UAV imagery, differential GPS points, single-beam bathymetry, and surface-water reflectance spectra. However, much of what I do revolves around the processing, QA/QC analysis of these data in various geospatial software back in Texas. As part of an internship with the National Geodetic Survey (NOAA/NOS), I'll be creating high-resolution elevation datasets from NOAA Coastal Imagery over a large swath of the eastern Beaufort coastline utilizing Structure-from-Motion (SfM) techniques in the hopes of facilitating charting and coastal zone management efforts.
What sparked your initial interest in your career?
I was initially drawn to Geographic Information Systems (GIS) and related technologies like Remote Sensing (RS) through my previous work in graphic design. User interfaces and data formats for design programs I was accustomed to translating well when working with raster and vector map data. Plus, I can still incorporate design elements and ideas into the manipulation and visualization of geospatial data. As I finished my Bachelor degree in Environmental Science, I decided to join the Systems Ecology Lab at UTEP as a full-time GIS technician. The main focus in this lab is the understanding of ecological systems and changes therein through the use of technology and engineering (GIS and RS having the lion's share of that focus). 
Who influenced you or encouraged you the most?
My UTEP advisors, Dr. Craig Tweedie, and Dr. Miguel Velez-Reyes played a large part in showing me what is possible in the worlds of Ecology, Environmental Science and Remote Sensing. My NOAA mentor, Dr. Nicole Kinsman, has really brought me into the fold of super collaborative and interdisciplinary coastal mapping professionals in Alaska. 
What element of your work/study do you think is the most fascinating?
Being able to map natural features and phenomena on scales from plot level to continental all at the tips of your figures have been a great joy of mine. On top of that, this kind of work allows you to not only visualize but to understand the processes and drivers of natural phenomena. Coastal regions are inherently dynamic and it's always been fascinating to be able to capture that with Remote Sensing and GIS.
What other jobs led you to your current career?
Before starting in the graduate program I'm currently in, I was a full-time GIS technician for almost three years in the lab. This was an amazing opportunity to work on an assortment of different projects, collect all kinds of data and interact with researchers from many different fields. During this time, I became acquainted with the GIS, geospatial and remote sensing technologies I employ today in my graduate studies. I also had the opportunity to collect, QA/QC, analyze and deliver data for a project funded by the State of Alaska with fully attributed metadata. This was a great experience as it showed me what It's like to follow through with deadlines, meet the expectations of project coordinators and practice reproducible science.
What are your degrees and certifications?
Bachelor of Science in Environmental Science – University of Texas at El Paso; Graduate Certificate in Geographic Information Science and Technology (GIST) – University of Texas at El Paso; Small Unmanned Aircraft Systems (sUAS) Remote Pilot Certification – Federal Aviation Administration
What are your hobbies?
I enjoy hiking and backpacking in around the Southwest, music, design, data visualization, biking around town and playing table tennis. 
What advice would you give someone who wants to have a career like yours?
Many aspects of ecology and environmental science are inherently spatial. Nearly all the researchers I meet in arctic Alaska, from Ornithologists to Sea-Ice Physicists, either employ GIS and remote sensing or wish they'd learned how to sooner in life. I suggest learning the fundamentals of GIS, regardless of your field of interest, and giving yourself projects to work on outside of class. Then, become familiar and comfortable with statistics and statistical programs like R so you can begin to understand the patterns and relationships within geospatial data. 
How did you get involved with the Nautilus Exploration Program?
Being an NOAA-CESSRST Ph.D. fellow, I'm always made aware of when amazing opportunities such as this one become available. I applied through the support of the amazing CESSRST administration from the City College of New York who are a partner to NOAA's EPP (Education Partnership Program with Minority-Serving Institutions).