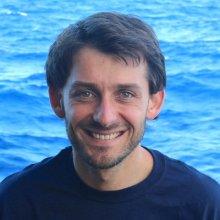 Spencer Backus
Robotics Engineer
Robotics Engineer
NASA Jet Propulsion Lab
Tell us about your work/research. What kinds of things do you do?
My Ph.D. research focused on the design of underactuated robotic hands for grasping from aerial vehicles. In addition to the core project optimizing the hand kinematics, this project took me in a number of tangential directions including studying the biomechanics of bird's feet as a source of bioinspiration and novel contact sensor design. Since joining JPL I have worked on a number of different robotic systems including a microspine gripper, miniature robotic arm and end effector, and robotic system for in-space assembly.
What sparked your initial interest in your career?
I have always been interested in understanding, designing, and building mechanical systems. As a child, my favorite toys were my Meccano set and Kinects and I rarely bothered with the instructions or building someone else's design. This early interest in mechanisms lead me to study mechanical engineering in college and when I looked at graduate programs lead me to robotics.
Who influenced you or encouraged you the most?
My high school calculus teacher, Matt Hanna, and college material science professor, Jon Stolk, were my two most influential teachers. Their approach to teaching taught me to understand the basic concepts involved instead of just the necessary methods and made me seek this level of understanding if other things that I have studied.
What element of your work/study do you think is the most fascinating?
The most exciting part of working at JPL is seeing and being involved in all of the different kinds of projects from early-stage R&D and concept studies to current flight projects undergoing assembly. Knowing that on any given day I could see and work on hardware that is going to be sent to another planet one moment and discussing pie in the sky technology for mission concepts the next is hard to beat.
What other jobs led you to your current career?
A number of summer programs in middle and high school, as well as internships in college, really helped me reach where I am today. In particular, the Acadia Institute of Oceanography summer camp and Summer Science Program introduced me to scientific research and scientific experimentation in middle and high school. Building off of these experiences, internships throughout college helped me develop practical skills and learn about what I most enjoyed working on.
What are your degrees and certifications?
Ph.D. in Mechanical Engineering, Yale University 2017
Master of Science in Mechanical Engineering, Yale University 2012
Bachelor of Science in Mechanical Engineering, F.W. Olin College of Engineering 2010
What are your hobbies?
I enjoy spending time in nature, hiking, rock climbing, and skiing.
What advice would you give someone who wants to have a career like yours?
I think the most important advice I can give is to pursue as many interesting and diverse opportunities as you can. Starting early and trying out many different things helped me figure out what I excelled at and enjoyed.
How did you get involved with the Nautilus Exploration Program? How did you get on the ship?
I have been developing a microspine gripper for anchoring an ROV and collecting rock samples and we will be testing it out on ROV Hercules during the Papahānaumokuākea Marine National Monument expedition.