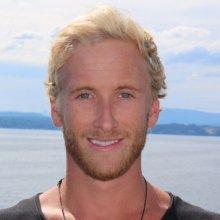 Shelton Du Preez
Photographer
Filmmaker/Photographer / Cinéaste/photographe
Luxury Yacht Films
Tell us about your work/research. What kinds of things do you do? / Parlez-nous de votre travail / vos recherches. Quels types de tâches effectuez-vous? 
I am a wildlife and adventure videographer, photographer, and filmmaker. During this Nautilus expedition, I'll be working with scientists from Fisheries and Oceans Canada and partners to document their research, science activities, and discoveries as they explore and study the Pacific undersea mountains. I developed a freelance film and photography company for the private yachting industry specializing in expedition and adventure cruising, Luxury Yacht Films (LYF). I contract to privately-owned motor and sail yachts to document their expedition. I join them onboard where I film and photograph the cruise, all of the activities, and the experience as a whole, providing them with clips and photographs throughout the trip, plus a finished movie on the last night. Combining my film work with over ten years of experience in the yacht industry puts me in a very unique situation that enables me the experience to join any kind of vessel worldwide. So far, LYF has taken me to some incredible marine environments, including the Canadian and Norwegian Arctic, Galápagos, Cocos Islands, Croatia, and Mozambique. My career with yachts helped me get the ball rolling, and I am now also pursuing a new career path into the world of science, wildlife and nature. I've found Film festivals to be a fun outlet and last year my film on the Arctic Archipelago of Svalbard won the Best Amateur Film category in the Wildlife Conservation Film Festival in New York City. Working with BBC has also been a dream come true.
Je suis un vidéographe, photographe et cinéaste qui s'intéresse à la faune et à l'aventure. Pendant l'expédition du Nautilus, je travaillerai avec les scientifiques de Pêches et Océans Canada et de ses partenaires pour rendre compte de leurs recherches, leurs activités scientifiques et leurs découvertes au fur et à mesure qu'ils explorent et étudient les monts sous-marins du Pacifique. J'ai créé ma propre société indépendante de film et de photographie pour l'industrie de la navigation de plaisance privée qui se spécialise dans les expéditions et les croisières d'aventure, Luxury Yacht Films (LYF). Je vends mes services à des propriétaires privés de yachts motorisés ou à voile pour documenter leur expédition. Je voyage à bord pour filmer et photographier la croisière, toutes les activités et l'expérience dans son ensemble. Je remets des séquences vidéo et des photographies tout au long du voyage, ainsi qu'un film complet la dernière nuit. L'association de mon travail de cinéaste et de mon expérience de plus de dix ans dans l'industrie de la navigation de plaisance me place dans une situation unique qui me donne la possibilité de monter à bord de tout type de navire dans le monde entier. Jusqu'à présent, LYF m'a amené dans des environnements marins incroyables, notamment dans l'Arctique canadien et norvégien, les Galápagos, les îles Cocos, la Croatie et le Mozambique. Ma carrière dans la navigation de plaisance m'a aidé à me lancer et je poursuis désormais une carrière dans le monde scientifique, de la faune et de la nature. J'ai découvert que les festivals de films constituent un débouché intéressant. L'an dernier, mon film sur l'archipel Arctique de Svalbard a gagné dans la catégorie des meilleurs films amateurs du Wildlife Conservation Film Festival de New York. Ma collaboration avec la BBC est un autre rêve qui s'est concrétisé.
What sparked your initial interest in your career? / Qu'est-ce qui a initialement suscité votre intérêt dans votre domaine professionnel?
As young teens growing up in South Africa, we were always playing around with camcorders on the beach and in the surf. I took to it quite easily, not knowing that it was the foundation for my future career. Fast forward to 2015, I was Chief Mate onboard a private yacht that would eventually sail through the Northwest Passage for two consecutive summers. Out there, in the pristine yet fragile Arctic environment, I developed a new respect and passion toward wildlife and nature. Presented with this once in a lifetime opportunity, I decided to learn everything I could about film and photography so I could capture and share the essence of where we were.
En tant que jeunes adolescents grandissant en Afrique du Sud, nous jouions toujours avec des caméscopes sur la plage et dans les vagues. J'y ai pris goût assez facilement, ne sachant pas qu'il s'agirait là de la fondation de ma future carrière. Transportons-nous en 2015 : j'étais second-capitaine d'un yacht privé qui allait naviguer dans le passage du Nord-Ouest pendant deux étés consécutifs. Dans cet environnement arctique à la fois pur et fragile, mon respect envers la faune et la nature et ma passion pour celles-ci se sont renouvelés. Cette occasion unique m'a incité à apprendre tout ce que je pouvais sur le film et la photographie pour capturer et diffuser l'essence de cet endroit.
Who influenced you or encouraged you the most? / Qui vous a influencé ou encouragé le plus?
When I initially picked up the camera again in 2015, I was heavily influenced and motivated by a variety of nature documentaries, but without a doubt mostly BBC Earth, Blue Planet, Frozen Planet, etc. As time went on I was very encouraged by my family, friends, and both the Captain and the owner of the yacht I was employed on. Being exposed to so many incredible creators these days, the list is long and always growing.
Lorsque j'ai repris la caméra en 2015, j'étais fortement influencé et motivé par plusieurs documentaires sur la nature, mais particulièrement par BBC Earth, La planète bleue, Terres de glace, etc. Alors que le temps passait, ma famille et mes amis m'ont beaucoup encouragé, de même que le capitaine et propriétaire du yacht sur lequel je travaillais. Grâce à une exposition à plusieurs créateurs incroyables, la liste de mes influences est longue et continue de s'allonger.
What element of your work/study do you think is the most fascinating? / Quel élément de votre travail ou de vos études est le plus fascinant selon vous?
People's emotions. In this line of work, I am blessed I get to see and experience a lot of incredible things. That aspect is great, but to me, the most fascinating element of my work is the emotions of the people who watch my movies. When I'm holding a screening, and the audience laughs, gasps, cries… there's nothing more rewarding for me. "…People will never forget how you made them feel." 
Les émotions des gens. Dans ce domaine, j'ai la chance de voir et de vivre des choses fabuleuses. Cet aspect est bien, mais, pour moi, l'élément le plus intéressant de mon travail est l'émotion que j'arrive à susciter chez les personnes qui regardent mes films. Lorsque j'organise une projection et que le public rit, crie ou pleure, rien n'est plus précieux pour moi. « Les gens n'oublieront jamais les sentiments que vous avez éveillés en eux. » 
What other jobs led you to your current career? / Quels autres emplois vous ont amenés à votre carrière actuelle? 
During my decade aboard private ships, I lived and worked in very personal environments with a variety of people at sea for different reasons; this taught me how to be prepared for and adapt to any at-sea situation. Another advantage gained from my at-sea training and experience is that I feel at home when I'm on a ship. Being comfortable on a film assignment allows you to give more of your attention and focus on the task at hand. Film work can also be extremely physical at times, and the fitness and skills I've picked up along the way all lend certain functions to make me a better videographer, such as scuba diving, running, weight lifting, rock climbing, surfing, and computer work.
Au cours des dix années que j'ai passées sur des navires privés, j'ai vécu et travaillé dans des environnements très personnels, avec différentes personnes qui étaient en mer pour différentes raisons, et cela m'a appris à être prêt et à m'adapter à n'importe quelle situation pouvant survenir en mer. Un autre avantage que je tire de ma formation et de mon expérience en mer, c'est que je me sens chez moi sur un bateau. Le fait d'être à l'aise pendant un tournage permet de porter une plus grande attention aux tâches à accomplir et de mieux se concentrer. Le travail cinématographique peut parfois être très physique, et la forme physique et les aptitudes que j'ai développées en cours de route, comme la plongée sous-marine, la course, l'haltérophilie, l'escalade, le surf et le travail informatique font de moi un meilleur vidéaste.
What are your degrees and certifications? / Quels diplômes et titres de compétences possédez-vous?
UK MCA Master of Yachts < 3000gt CoC
PADI Dive Master, Tech Support, Nitrox & Re-breather
United States FAA Drone Pilot
SSI Advanced Freediver
Certificat professionnel UK MCA Master of Yachts < 3000 GT
brevet PADI DiveMaster, soutien technique, plongée à l'air enrichi nitrox et recycleur
Licence de pilote de drone, Federal Aviation Administration (États-Unis)
Brevet d'apnéiste SSI Advanced Freediver
What are your hobbies? / Quels sont vos passe-temps?
First and foremost, surfing, and then in no particular order: freediving, snowboarding, running and working out, traveling, learning new editing techniques, watching wildlife documentaries, and reading (when time permits!).
Tout d'abord, surfer, et dans le désordre : l'apnée, la planche à neige, la course et l'entraînement, voyager, apprendre de nouvelles techniques de montage, regarder des documentaires animaliers et lire (quand j'ai le temps!).
What advice would you give someone who wants to have a career like yours? / Quel conseil donneriez-vous à quelqu'un qui souhaite faire la même carrière que vous?
The best part of videography, photography, and filmmaking nowadays is the endless avenues and niches you can find or create for yourself. If you know that you want to pursue this career, but you don't know in which direction, start small and slow. Watch shows, series, and online videos, and then experiment. Pick up any camera (yes, even your phone) and play with different shooting and editing techniques. Every photo or video you produce will teach you a little bit more about what makes you excited, and each will increase your knowledge and confidence. Shoot, edit, repeat (and enjoy). 
L'avantage de la vidéographie, de la photographie et du cinéma aujourd'hui, ce sont les innombrables voies que l'on peut emprunter et les niches que l'on peut trouver ou créer par soi-même. Si vous savez que vous voulez faire ce métier, mais que vous ne savez pas dans quelle direction aller, commencez petit et allez-y doucement. Regardez des émissions, des séries et des vidéos en ligne, puis expérimentez. Prenez n'importe quel appareil photo (oui, même votre téléphone) et jouez avec différentes techniques de prise de vue et d'édition. Chaque photo ou vidéo que vous produisez vous en apprendra un peu plus sur ce qui vous passionne, et chacune d'elles renforcera vos connaissances et votre confiance. Filmez, montez, recommencez (et amusez-vous). 
How did you get involved with the Nautilus Exploration Program? How did you get on the ship? / Comment vous êtes-vous impliqué dans le Nautilus Exploration Program? Comment êtes-vous monté à bord du bateau?
The natural world is what lured me into this industry and I am thrilled to be pursuing this path by joining the Nautilus Exploration Program. Since the successful launch of my freelance filmmaking company, I've prioritized collaborating with marine science and ocean education efforts. After spending last season in the Galápagos and Coco Islands working with scientists, the Charles Darwin Research Center, and BBC, I resolved to get even more involved with science outreach. I got involved with this Nautilus expedition through working with Fisheries and Oceans Canada. This expedition is a dream job because 1) I was born in Canada, and 2) my sister is a research scientist and will be aboard the Nautilus exploring the deep sea with the mission submersibles. 
J'ai été attiré vers cette industrie par le monde de la nature, et je suis très heureux de continuer dans cette voie en me joignant au Nautilus Exploration Program. Depuis que j'ai lancé, avec succès, ma propre entreprise cinématographique, j'ai toujours collaboré, en priorité, à des projets liés aux sciences marines et à l'éducation sur les océans. Après avoir passé la dernière saison aux îles Galápagos et aux Îles Cocos à travailler avec des scientifiques, la Charles Darwin Research Station et la BBC, j'ai décidé de m'impliquer encore plus dans la sensibilisation scientifique. Je me suis retrouvé impliqué avec cette expédition Nautilus par l'entremise de mon travail chez Pêches et Océans Canada. Cette expédition est un emploi de rêve, parce que 1) je suis né au Canada et 2) ma sœur, qui est chercheuse, sera à bord du Nautilus, en train d'explorer les grands fonds avec les engins sous-marins de la mission. 
Expeditions
Shelton participated in the following Ocean Exploration Trust expeditions: