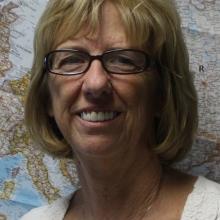 Sharon Pearson
Educator-at-Sea
Sandy Searles Miller IB World School, Las Vegas, NV
Sharon Pearson is an Educator at Sea onboard the E/V Nautilus.
Sharon has taught for over 20 years, mostly in fourth and fifth grades. She currently teaches at an International Baccalaureate Primary Years Programme School. She uses both the JASON Project and Immersion Learning in her classroom instruction. During summer, Sharon is an instructor for the Phil Mickelson Exxon-Mobil Teachers Academy.
Sharon graduated from California State University at Fullerton with degrees in psychology and education, and later earned a masters' degree in Curriculum and Instruction.