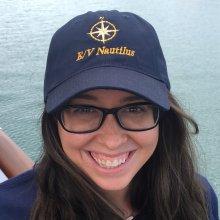 Shannon Hoy
Navigator
Graduate Student
University of New Hampshire
Tell us about your work/research. What kinds of things do you do?
For my Master's thesis, I am investigating the potential of using the boating crowd (fishing boats, merchant vessels, pleasure crafts, etc.) to expand and update our knowledge of the seafloor. Crowdsourcing is revolutionizing many fields of science and hydrography (the science of nautical charting) is one field that could benefit from citizen sensing. The big question to answer is how reliable are depths acquired by the crowd. Hydrographic Offices are liable for each depth used on the chart to aid safe navigation by mariners, therefore they must be certain of the accuracy of the data they use. So, the purpose of my project is to determine the uncertainty of data collected by the crowd and advise official agencies on the potential and limitations of utilizing the crowd to map the seas.
What sparked your initial interest in your career?
I have always wanted a career that involved the ocean. It began as a young girl splashing through tidal pools. I was so engrossed with every spectacular creature that I came across, from the spiky sea urchin to the gelatinous anemone. I decided to pursue a career in marine biology. I went to the College of Charleston and while studying biology, also became intrigued with marine geology. I had a wonderful geology professor who asked if I would like to go to sea to learn to map the seafloor. Of course, I jumped on the chance! I haven't looked back since. I have now participated with 12 mapping expeditions across the globe and I am finishing up my degree in Earth Sciences Ocean Mapping at The University of New Hampshire.
Who influenced you or encouraged you the most?
My path has been shaped by many mentors along the way, but it started with my marine geology professor, Doc, as we all call her. She took me out on my first ocean expedition, where I found out that all the limitations I had set on my goals were false. I realized that I could achieve anything. She always supported and inspired me, and I wouldn't be where I am today without her.
What element of your work/study do you think is the most fascinating?
It is difficult to pick just one! I have an interdisciplinary background, so I am fascinated by the thousands-of-year-old coral that vibrantly exists on the seafloor, to the tiny animals that are found in sediment cores that record our past. However, as an ocean mapper, I think the most fascinating thing is that we can send a little ping of sound thousands of meters through the water column, encountering obstacles, that returns to us and through the work of bright minds, we can make a rather accurate estimate of depth. The Earth is an incredible place, and every day I am astounded by the human minds that ingeniously figure out its secrets. Science is pretty freaking cool.
What other jobs led you to your current career?
I am so thankful to have a diverse and multidisciplinary background. I've had the opportunity to perform necropsies on hundreds of marine mammals and process hundreds of sediment cores at the USGS. I have also participated with numerous mapping expeditions across the globe, with wonderful institutions such as Woods Hole Oceanographic, University of Bristol, and the University of New Hampshire. I think my multidisciplinary background allows me to see the larger picture and to appreciate the perspectives from multiple fields.
What are your degrees and certifications?
Bachelor of Science in Marine Biology - College of Charleston 2012; Master of Science in Earth Sciences Ocean Mapping - University of New Hampshire 2018 (continuing)
What are your hobbies?
You can always find me in the garden, trying to get things to grow or taking pictures of wildlife!
What advice would you give someone who wants to have a career like yours?
My advice would be to gain a strong foundation in mathematics, physics, and to learn a computer language. These three things I didn't have when going into my graduate studies, and I have had to learn them on-the-go. I did it, but it was difficult! And now having a better foundation in these, I feel like I am able to ask stronger scientific questions and better understand the results of my investigation. Also, to take every opportunity that you can. Even without these foundations, I was able to pursue a graduate degree at a wonderful university, due to having experience in multiple related fields.
How did you get involved with the Nautilus Exploration Program?
I actually was able to join the Nautilus in 2014 as a scientist was working for the United States Geological Survey. I had such a wonderful time that I have been itching to go back out ever since!