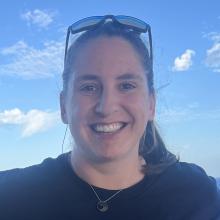 Shannon Cofield
She/Her
Science/Data Team
Federal Scientist- Geological Oceanographer
Bureau of Ocean Energy Management
Tell us about your work/research. What kinds of things do you do?
I'm trained as a geological oceanographer, or more specifically, a sedimentologist. My graduate research focused on Arctic Ocean deep-sea sediment cores. We used iron-oxide sands (ice rafted debris) as a proxy for ice movement during glacial periods, allowing us to better understand paleoclimate. During graduate school, I also worked with NASA's Jet Propulsion Lab on the Curiosity Rover Team and the Mars2020 (now "Perseverance Rover") Team to develop orbital geologic maps at high-resolution for Gale crater and Jezero crater, respectively.
What sparked your initial interest in your career?
I have always been drawn to STEM. After serving in the Navy, I went back to college wanting to study marine biology. However, after taking one college geology course, and realizing geology encompassed so many fields, I was sold. Not only could I study present-day earth, but geology also provides clues for the past- on earth and other terrestrial planets! I have always enjoyed solving puzzles or deciphering codes, so spending my career trying to decipher the clues in rocks or sand grains sounded like the perfect path.
Who influenced you or encouraged you the most?
As a kid my mind was filled with wild and crazy ideas. I was fortunate to have family, teachers, and friends who recognized and encouraged my curiosity.
What element of your work/study do you think is the most fascinating?
I enjoy the unknowns- whether it's the deep sea or Mars.
How did you get involved with the Ocean Exploration Trust?
I've actually been an avid consumer of Nautilus' livestreams and outreach. I always learn something new on every dive. When my current (BOEM) position- expedition partner- presented me with the opportunity to join an expedition, I was thrilled to be part of this group.
What other jobs led you to your current career?
I served in the U.S. Navy, which provided a wonderful opportunity to pursue higher education. During graduate school, my department supported me as a Teaching Assistant. I taught ~10 different courses and loved every second! Teaching provides important skills such as science communication, public speaking, and critical thinking, in addition to encouraging students to enjoy STEM. I also participated in a variety of internships (NASA), and roles such as our department's Research Experience for Undergraduates (REU) coordinator. Each experience made me a more well-rounded scientist, but also continued vital skills: teamwork, time management, organization, and effective communication.
What are your degrees and certifications?
B.S. and M.S. in Ocean, Earth, and Atmospheric Sciences (2012 and 2015), and Ph.D. in Geological Oceanography (2023) - Old Dominion University, Norfolk, VA, USA; PADI Divemaster
What are your hobbies?
I live within driving distance of the mountains and ocean, so I enjoy taking advantage of a variety of outdoor activities. I also enjoy swimming, triathlons, CrossFit, and Olympic lifting.
What advice would you give someone who wants to have a career like yours?
If you want to be a geologist or oceanographer, I definitely encourage you to be as interdisciplinary as possible. Oceanographic or geologic systems, like most systems in nature, are complex and interact with multiple fields, such as physics, chemistry, biology, and social sciences. You don't have to become an expert in all fields, but having a little knowledge and experience in a variety of fields will set you up for success. Math, computer sciences, data analysis, and critical thinking are valuable skills. The most important thing for any field is to find your passion, keep an open mind, and do something you love.
Expeditions
Shannon participated in the following Ocean Exploration Trust expeditions: