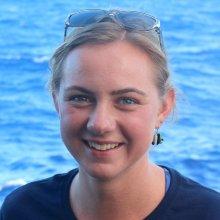 Sara Matasick
Video Engineer
Wildlife Filmmaker
Self-Employed
Tell us about your work/research. What kinds of things do you do?
I am a filmmaker who specializes in wildlife documentaries. My background is in Wildlife Ecology and I recently received my Master's in Wildlife Filmmaking. I'm constantly looking for compelling stories that will help inspire people to coexist with the natural world. I especially like highlighting positive, relatable stories about human-wildlife conflict. These moving stories are most able to change peoples' attitudes, and I take these from seedling ideas to complete films through the development, research, filming and editing production processes. My wildlife background helps me know how best to translate scientific topics for the public and bridge the gap between important research and entertaining film.
What sparked your initial interest in your career?
I have always loved being in the outdoors and have had a strong empathy for species that don't have a way to speak up for themselves. Wildlife ecology, conservation, and management are crucial, but more people need to be aware of the new and old issues nature faces. Growing up watching shows like Bill Nye and Jeff Corwin also played a role in convincing me that media is a great way of reaching audiences that might not normally be interested in wildlife. In making wildlife documentaries, I get to combine my scientific and creative sides and really make a difference.
Who influenced you or encouraged you the most?
My parents always encouraged me to play outside, and I have wonderful memories exploring the neighborhood creek, making art with my mom, birding and fishing with my dad, and going on fun family trips to National Parks. They encouraged curiosity, respect, and wonder, and gave me the opportunities and support to pursue my dreams.
What element of your work/study do you think is the most fascinating?
Every second aboard the Nautilus is an adventure. As a video engineer, I can see all cameras at once and really get a 360 view around the ROVs as we explore. While eagerly looking ahead to what's just beyond the reach of the lights, it's exciting to know that any second could present some new ocean creature or never-before-seen landscape.
What other jobs led you to your current career?
Aside from BSc in Wildlife Ecology and MA in Wildlife Filmmaking, I did avian field research for several summers, worked at the Newport Aquarium in Kentucky, practiced photography, learned photo editing and digital restoration, and finally made my own wildlife documentary. Outside of jobs and school, I'm always trying to learn new skills like drone piloting, SCUBA, and rock climbing. There is something to be learned from every experience, and my curious nature means that I'm interested in many seemingly unrelated fields.
What are your degrees and certifications?
Bachelor of Science in Wildlife Ecology and Certificate in Environmental Studies -- University of Wisconsin-Madison 2014; Masters of Arts in Wildlife Filmmaking -- University of the West of England, 2018.
What are your hobbies?
I love water skiing, playing tennis, practicing photography, singing, hiking, and baking (pies are my favorite).
What advice would you give someone who wants to have a career like yours?
I've wanted to be a wildlife filmmaker ever since I can remember, but I still am not sure if I can say I have established a career out of it. The best things to do, which I will continue to do until I retire (hah!) are to be persistent, always keep learning, develop new skills that will help you stand out from the crowd, think outside the box, stay curious, and make meaningful connections with people along the way.
How did you get involved with the Nautilus Exploration Program?
The EV Nautilus was brought to my attention by a friend, who is also a Video Engineer aboard the ship. Last year I joined OET as a Video Engineering Intern and knew the first day that I would want to come back!