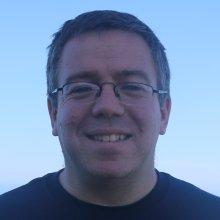 Roland Arsenault
ASV Software Developer
Software Engineer
University of New Hampshire
Tell us about your work/research. What kinds of things do you do?
I write software for marine robotics. In other words, I try to make robot boats smarter and more capable of operating with less immediate human supervision. Some of my time is spent in the office where I can write code and test with simulators, but I also get out in the field when it comes time to test with real vehicles. Such field work may be day trips to the local pier or longer expeditions where we operate Autonomous Surface Vehicles (ASVs) from a larger ship, such as the Nautilus.
What sparked your initial interest in your career?
I got interested in computers at a young age when my parents recognized the future importance of gaining computer skills and got me a Commodore VIC 20. I learned how to program in Basic as well as assembly language on the VIC-20 and later on a Commodore 64 with a special interest in computer graphics and writing games. That lead me to study Computer Science at the University of New Brunswick where I obtained my degree and focused on data visualization. I was then offered a position at the University of New Hampshire's Center for Coastal and Ocean Mapping/Joint Hydrographic Center as a founding member. That has been a great fit for me as it combines computers as well as maps, something else I've always loved!
Who influenced you or encouraged you the most?
My parents have always supported me and have been my #1 fans. They always encouraged me as I pursued my passions growing up.
What element of your work/study do you think is the most fascinating?
Building a complex system, installing it on an ASV, and having it work properly is always exciting. The icing on the cake comes when I pick up a game controller and drive the ASV while looking at the software I wrote to track the vehicle which looks a lot like a video game. This blurring of the lines between gaming and developing cutting-edge technology for exploration can be mind-blowing.
What other jobs led you to your current career?
I'm still working at my first job since graduating! I happen to be at the right place at the right time while I was studying at the University of New Brunswick and got offered a job at a new mapping center that was being established at the University of New Hampshire.
What are your degrees and certifications?
I obtained a Bachelor of Computer Science at the University of New Brunswick in 1998.
What are your hobbies?
Growing up in Canada, I joined the Royal Canadian Air Cadets where I obtained a glider pilot's license as well as a private pilot's license. More recently, I've kept busy racing motorcycles, downhill skiing, traveling and kayaking. Oh, and I still like to play computer games once in a while.
What advice would you give someone who wants to have a career like yours?
Learn how to program or code. A computer science degree can get your foot in the door in so many different fields and you can later become an expert in that field by learning what you need to write useful software tools.
Expeditions
Roland participated in the following Ocean Exploration Trust expeditions: