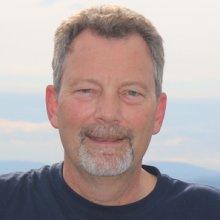 Robert Rangeley
Science/Data Team
Science Director / Directeur des sciences
Oceana Canada
Tell us about your work/research. What kinds of things do you do? / Parlez-nous de votre travail / vos recherches. Quels types de tâches effectuez-vous?
I provide the scientific research and advice for Oceana Canada's conservation campaigns. This includes fisheries rebuilding and habitat protection including recommendations informed by expeditions. I also advocate for policy change aimed at better management of our oceans.
Je fournis des données de recherche scientifique et des conseils destinés aux campagnes de conservation d'Oceana Canada. Cela inclut le rétablissement des pêches et la protection de l'habitat, notamment des recommandations éclairées par les expéditions. Je milite également pour la modification de politiques afin de mieux gérer nos océans.
What sparked your initial interest in your career? / Qu'est-ce qui a initialement suscité votre intérêt dans votre domaine professionnel?
I spent my childhood rambling around the woods and water close to the Great Lakes where I spent all the summers of my youth. As a teenager I took up SCUBA and photography and was immediately drawn to the diversity and abundance in our oceans, never to return to diving in the lakes.
J'ai passé les étés de mon enfance à me promener autour des cours d'eau et des forêts près des Grands Lacs. Adolescente, j'ai commencé à faire de la plongée autonome et de la photographie. J'ai immédiatement été attirée par la diversité et l'abondance de nos océans, à tel point que je n'ai jamais plongé de nouveau dans un lac.
Who influenced you or encouraged you the most? / Qui vous a influencé ou encouragé le plus?
One professor was most influential. He was an exciting invertebrate zoology lecturer and also enthusiastically led a marine field course on the Atlantic coast. He really fired up my desire to become a marine biologist.
Un de mes enseignants a eu une influence particulière sur moi. C'était un conférencier passionnant sur la zoologie des invertébrés et il donnait avec enthousiasme les cours d'études pratiques marins sur la côte de l'Atlantique. Il a vraiment animé en moi le désir de devenir une biologiste de la vie aquatique.
What element of your work/study do you think is the most fascinating? / Quel élément de votre travail ou de vos études est le plus fascinant selon vous?
Experiencing the video (from sleds and ROV) exploration of the deep seafloor in Atlantic Canada and our central Pacific coast was fascinating - very hard to tear your eyes away from the monitor. It takes an added level of satisfaction as we've been able to use these images to educate about the importance of marine conservation.
Le visionnement de l'exploration vidéo (à partir de traîneaux ou de véhicule sous-marin téléguidé) du plancher océanique en haute mer du Canada atlantique et de la côte centrale du Pacifique m'a fasciné (c'était très difficile de détourner les yeux du moniteur). Un autre niveau de satisfaction s'ajoute alors que nous réussissons à utiliser ces images pour sensibiliser sur l'importance de la conservation marine.
What other jobs led you to your current career? / Quels autres emplois vous ont amenés à votre carrière actuelle?
I've worked in University research labs, lectured and worked as a researcher for the Canadian Department of Fisheries & Oceans
J'ai travaillé dans des laboratoires de recherche universitaires, donné des cours et travaillé comme chercheur pour le ministère canadien des Pêches et des Océans.
What are your degrees and certifications? / Quels diplômes et titres de compétences possédez-vous?
B.Sc. Zoology, M.Sc., and Ph.D. in Biology
B. Sc. en zoologie, M. Sc. et Ph. D. en biologie
What are your hobbies? / Quels sont vos passe-temps?
Scuba, biking, canoeing, photography
Plongée sous-marine, vélo, canoë-kayak, photographie
What advice would you give someone who wants to have a career like yours? / Quel conseil donneriez-vous à quelqu'un qui souhaite faire la même carrière que vous?
Spend as much time in and on the ocean as you can. Take field courses, volunteer, and hold internships -- whatever it takes to get field experience and learn from experts. Take a wide range of courses before you specialize and follow your passion.
Passez autant de temps que possible dans et sur l'océan. Suivez des cours sur le terrain, faites du bénévolat et des stages – tout ce qu'il faut pour acquérir une expérience pratique et apprendre des experts. Suivez un large éventail de cours avant de vous spécialiser et de vivre votre passion.
How did you get involved with the Nautilus Exploration Program? How did you get on the ship? / Comment vous êtes-vous impliqué dans le Nautilus Exploration Program? Comment êtes-vous monté à bord du bateau?
Oceana is one of the Canadian Seamount Expedition partners.
Oceana est l'un des partenaires de l'expédition dans les monts sous-marins du Pacifique Nord-Est.