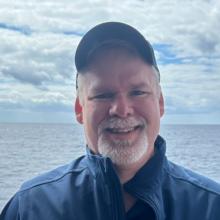 Peter Thordarson
He/Him
Video Engineer
Broadcast Industry Engineering Professional
Broadcast Engineering Consultant
Tell us about your work/research. What kinds of things do you do?
For over 25 years, I've been extremely lucky to be in the broadcast engineering, production, and management side of the industry. Rarely is there a day that is the same as the day before! In the 90's, I worked on large ships and yachts integrating complex ship monitoring computer systems. Being back out to sea and combining my background in communications and electronics with live media is an incredible experience. As a broadcast engineer at Microsoft, I supported the CEO productions, XBOX events, and even presidential candidate shows! I have operated satellite earth stations for the FOX Network and FOX Sports, and managed the compressions systems for over 20,000 network and cable affiliates. My educational background is primarily in electronic engineering and communications electronics.
What sparked your initial interest in your career?
I started in radio as a DJ in 1987 working for my high school radio station in Seattle (C89 FM-Nathan Hale). I was in love with working in the media from that point on! I moved over to broadcast television in the 90's, and never looked back. The ever-evolving challenges and most importantly the people are why I still love being in this industry every day. The coolest thing about broadcast media is the ever-evolving progression of how content and storytelling are consumed, and supporting it by increasingly complex technology and broadcast systems.
Who influenced you or encouraged you the most?
My father- an inventor, and a great dad. He showed me patience, and gave me the tech 'bug' starting at a very young age. My mom was the biggest and most influential person in my life regarding encouragement and confidence. Professionally, I run into 'mentors' every day. You never know who you might run into that might make a tiny impact on your day, or maybe even your life!
What element of your work/study do you think is the most fascinating?
The paradox of ever-constant evolution of technology and methods of content creation and distribution, but yet the way we produce live television really hasn't changed since the birth of live TV in the 1950's. That fascinates me. It says something about the methods of best practices and standards are critical, but also allow for innovation and not impede improvement or changes.
How did you get involved with the Ocean Exploration Trust?
A professional friend of mine, Dave Robertson introduced me to OET. I've been keeping tabs on Dave (and a former coworker of mine who also worked on the Nautilus) for a number of years, and what really struck me about his and my co-workers' experiences was incredible. They loved what they did, and loved working for an organization that is working for the good of the oceans as well as the science and education communities! This is a perfect match for what I want to do in this chapter of my career.
What other jobs led you to your current career?
Working in technology, both in the broadcast television and marine sides has brought me to OET. I feel it was a perfect match helping OET accomplish its goals of producing live content, as well, as supporting any other teams onboard that might need help! Working on trawlers, large yachts, broadcast, and cable networks has prepared me to help wherever I can on the Nautilus. 
What are your degrees and certifications?
AAS, Electronics Engineering -- North Seattle College; AAS Communications Electronics --North Seattle College, 1996. First and third Radio Telephone Operators license, 1996.
What are your hobbies?
I love to learn new methods of simplifying life through tech (yes, another paradox). I love retro gaming, biking, and RV'ing. My wife and I purchased a 5th wheel a few years ago, so any time off we get we try to get out!
What advice would you give someone who wants to have a career like yours?
Entering into media technology and cinematography is so different today than even a few years ago. What hasn't changed? The old cliche of "it's not what you know, it's who you know". While not necessarily all true, that saying has some credence. Making content today is more accessible and available than ever, it also brings challenges. The 'ocean' has gotten much larger for content creators, and trying to stick out is also as hard as it's ever been. Creating a professional network is as critical as making great television or movies.
My advice? Join associations, go to professional conferences, maybe take on jobs or internships that may not be exactly what you want to do…network! Through building your professional network, more doors will open. That's how you will grow, learn, and maybe navigating the 'ocean' won't seem so daunting. All of a sudden, that ocean will seem like a lake or possibly even a pond before you know it!
 
Expeditions
Peter participated in the following Ocean Exploration Trust expeditions: