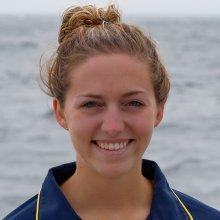 Olivia Czerewko
Navigation Intern
Undergraduate
U.S. Naval Academy
Tell us about your work / research. What kinds of things do you do?
I major in Oceanography at the U.S. Naval Academy. During the school year, I immerse myself into my major and take classes that relate Oceanography to the Navy. Each summer I'm assigned to a ship or a land unit to experience life in the Navy and Marine Corps, and also an internship. The last two years I've been accepted into Oceanography internships. I'll study here for four years, and afterwards I'll commission as an officer into the Navy or Marine Corps. I'd like to fly helicopters in the Navy after I graduate. 
What sparked your initial interest in your career?
Both my parents were in the Navy, so I grew up with the idea that I could go to the Naval Academy. My mom was an Oceanographer for the Navy and my dad still flies planes in the Navy, so I was inspired by them and ultimately the appeal of challenging myself at a tough institution. I chose to major in Oceanography because it combines math and science, as well as a little bit of mystery. 
Who influenced you or encouraged you the most?
My parents and my Oceanography adviser encouraged me to challenge myself at the Naval Academy. I took tough classes and tested myself each semester, and ultimately my love for my major pushed me towards success. 
What element of your work / study do you think is the most fascinating?
At the Naval Academy, all of our Oceanography professors have so much schooling and life experience applying Oceanography to the real world. I love talking with my Military Professors, who've applied the things we learn in class to a real Navy unit in the battle space. 
What other jobs led you to your current career?
Growing up as a "Navy brat" I was surrounded by the military and loved the adventure that came with each move, and the ultimate challenge and sacrifice of one's duty inspired me to attend the Naval Academy. Within my Oceanography major, I've participated in two internships. One was with the Naval Academy Oceanography Yard Patrol Program, where I was challenged, as well as other midshipmen, to spend a month navigating the Chesapeake Bay and analyzing the water, weather, and beaches in the area. The other internship I was fortunate to participate in was the the Rutger's Coastal Ocean Observation Lab where I was able to work on ocean gliders and prepare one for a trans-Atlantic trip that would take place the following year. 
What are your degrees and certifications?
I'm studying to earn a Bachelor of Science in Oceanography at the United States Naval Academy. I'm graduating in May 2017. 
What are your hobbies?
I am a member of the Women's varsity rowing team at the Naval Academy. In my free time I enjoy hiking, hunting down items at thrift stores, and painting (I take my art materials everywhere!).
What advice would you give to someone who wants to have a career like yours?
Attending the Naval Academy is a unique experience; I not only earn a major in something I love, but I after graduation I will serve for 5 years in the Navy or Marine Corps. If you are interested in attending, you must be prepared to sacrifice your time and challenge yourself everyday to do the right thing and prepare yourself to become a great officer in the Fleet. 
How did you get involved in the Nautilus Exploration Program? How did you get on the ship?
My good friend and teammate Julia Arthur initially talked to me about the Nautilus internship, and my Academic Adviser Captain Emil Petruncio, USN encouraged me to apply when I expressed my interest in an internship on a Oceanography or Ocean Exploration vessel. 
Expeditions
Olivia participated in the following Ocean Exploration Trust expeditions: