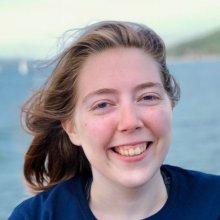 Nicole Gottschalk
Video Engineering Intern
Recent Graduate
Santa Fe University of Art and Design
Tell us about your work/research. What kinds of things do you do?
As a recent film graduate, I have worked on several documentary and commercial films. Through my experience, I found that I am most interested in providing platforms for general audiences to further the conversation about environmental issues. As an undergraduate, I directed a documentary film, Star Struck, which focused on women in STEM, NASA and the American education system. I would like to continue working with scientists to share their research within the public sphere.
What sparked your initial interest in your career?
My journey into film began as an exploration of storytelling; I wanted to be able to reach as many people as I could to tell stories about places and people that an audience would have no other opportunity to learn about otherwise. I found filmmaking to be a medium easily accessible to more diverse audiences. As a student, my interest in science was rekindled upon a self-exploratory dive into childhood while searching for a topic in a documentary film class. As a child in Houston, Texas I lived near NASA and had science brought into all aspects of my education - from astronauts visiting my class to simply learning about the Earth's atmosphere. Once I moved away and continued further into the public education system, I lost those influences as science wasn't emphasized in other schools. The realization of my own experience brought forth my idea for Star Struck, and in the end, my interest in bringing science into a more easily accessible platform, especially for younger students.
Who influenced you or encouraged you the most?
One of the people who encouraged me the most is my sister who has always been one of my biggest supporters in whatever endeavor I take on. My filmmaking has been influenced by the documentary film directors, Barbara Kopple with Harlan County, USA; and, Mo Scarpelli and Alexandria Bombach with Frame by Frame - women who tell the stories of real people and what they are trying to do in the world.
What element of your work/study do you think is the most fascinating?
The best element of my work has always been the people and their stories. The personal connection aspect that film - in any form - can bring about is what makes doing this so rewarding and special. To be able to provide content that continues to highlight the importance of the people behind scientific endeavors is a goal of mine.
What other jobs led you to your current career?
While in my undergrad, I worked on as many sets that I could get onto, doing work from sound to lighting to camera work. I've worked on live broadcasts, short films and commercial sets to gain as much working experience as possible. I wanted to try as many roles in film as I could while in school, even the not so glamorous ones. I believe that once you find something that fits you, it's extremely important to be able to understand how other jobs are done in accordance with your own.
What are your degrees and certifications?
Bachelors of Fine Arts in Film Post-Production -- Santa Fe University of Art & Design 2017
What are your hobbies?
I'm a big fan of watching whatever movie or show that I can get my hands on, especially science fiction. I also love to play both board games and video games whenever I have the off time.
What advice would you give someone who wants to have a career like yours?
While I, myself, am just at the starting point of my career, the biggest piece of advice that I can give is to simply put yourself out there and apply for as many internships as you can - even the ones that seem impossible. While in my undergrad, I was of the mindset that the only place that I could apply my skills was in Hollywood, tucked into a production company. Learning, and subsequently taking this leap, into a field that I never expected to find myself is one of the most exciting things that has happened yet. A lot of unexpected opportunities can come out of putting down uncertainty and taking a chance on an experience that can shape where you go next.
How did you get involved with the Nautilus Exploration Program? How did you get on the ship?
In truth, it happened by chance. I happened to follow the right people on social media and saw the final blast for applicants. As a recent graduate, I had been looking for interesting internships and decided to give the application a shot, despite not having a science background. I was honored to have been selected as a video intern and to have the opportunity to experience field work first hand.