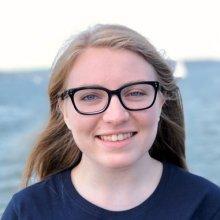 Michaela Barnes
Navigator
Undergraduate Student
Fisheries and Marine Institute of Memorial University of Newfoundland
Tell us about your work/research. What kinds of things do you do?
As an Ocean Mapping student at the Fisheries and Marine Institute, I study the use of remote sensing to explore the ocean environment. I work with equipment that emits acoustic signals to collect data about the seafloor and water column. Some of the equipment I use includes multibeam echosounders, side scan sonars, sub-bottom profilers, etc. I spend time on vessels mobilizing this equipment to collect data in all different water bodies including lakes, coastal waters, or deep ocean. Once data is collected, I'll go to a lab to process and display it.
What sparked your initial interest in your career?
My interest in ocean technology began in the 8th grade when I joined a robotics team that competes with underwater remotely operated vehicles (ROVs). As I continued to build and compete with these vehicles, become more immersed in the world of ocean technology. I became fascinated by how little we know about our oceans. Living on the island of Newfoundland, I have been surrounded by water my entire life. The ocean and its resources are huge economic and cultural influencers in my home, yet we know so little about them.
Who influenced you or encouraged you the most?
My robotics teachers throughout middle school and high school introduced me to the possibility of pursuing technology not just as a hobby, but as a career. Mr. Coates, Mr. Randell, Mr. Spurrell, and Mr. Roberts continuously pushed me to work hard and produce only the best, while teaching me how to have fun along the way.
What element of your work/study do you think is the most fascinating?
I find it fascinating that we know so little about our own planet. Through acoustics and seafloor mapping, I feel like a deep sea explorer, looking at images and topography hidden under thousands of meters of water. It's like lifting the cover of the ocean to a world never seen before.
What other jobs led you to your current career?
I started out in the field of ocean technology by competing in the Marine Advanced Technology Education (MATE) International ROV competition. This expanded my interest in exploring the ocean, leading to my decision to study ocean acoustics. While studying in the Ocean Mapping program, I continued to compete in the MATE competition and picked up a job in the school's ROV technology lab. For the last two summers, I worked as a student researcher for the Journal of Ocean Technology. Through this job, I grew a passion for science communication and developed skills in technical and non-technical writing.
What are your degrees and certifications?
I am currently studying to obtain a Diploma of Technology in Ocean Mapping. I am also taking courses online to obtain a Bachelor of Technology from Memorial University of Newfoundland. My other certifications include:
Marine Basic First Aid; STCW 95 - Basic Safety; Radio Operator Course - Marine Certified; Small Vessel Operators Proficiency; and Practical Boat Operator.
What are your hobbies?
I love being outdoors, so a lot of my hobbies include kayaking, hiking, camping, and of course boating. In my spare time, I build ROVs as a member of Memorial University's Underwater Vehicles team. I also play the piano and speak a little French.
What advice would you give someone who wants to have a career like yours?
If you want to get involved in ocean exploration, a good place to start is just getting experience being on and near the water. Learn about life living on a boat by asking and listening to those who have done it. Get involved with ocean technology by attending local events, talks, or even starting or joining an ocean technology team at your school or in the area. Take every opportunity that comes your way; but more than that, seek out opportunities to learn and gain experience.
Expeditions
Michaela participated in the following Ocean Exploration Trust expeditions: