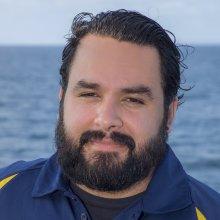 Michael Marin
Argus Pilot
Undergraduate
California State University Long Beach
Tell us about your work/ research. What kinds of things do you do? 
I study. And then study some more. I'm working towards a computer engineering degree and I am slowly making traction. But now there is less road ahead of me than there is behind me and that's pretty exciting.
What sparked your initial interest in your career?
I got involve because of my interest in robotics. I joined a robotics club that happened to be apart of an underwater ROV competition (MATE). This is what lead me to my current situation. And I wouldn't change a thing. 
Who influenced you or encouraged you the most?
My family has always influenced me to pursue more in life.
What element of your work/ study do you think is the most fascinating?
The most fascinating thing I have done on Nautilus was pilot the ROVs hydrothermal vents in the Galapagos. That was incredible. 
How did you get involved with the Nautilus Exploration Program?  
I started with Nautilus as an intern in 2013. Since then I have learned a great deal about remotely operated vehicles. I have piloted both Argus and Hercules as well as help launch the vehicles from the deck. Coming back to the ship is always a joy and I am humbled and grateful to be a part of this fascinating work.
What other jobs led you to your current career? 
I've worked in many jobs in different fields. From EMT to database administrator to electrician and more in-between. But what led me here to Nautilus was being true to myself. Knowing that I wasn't happy with what I was doing and continued my search for the right fit. 
What are your degrees and certifications?
Currently a senior at California State University, Long Beach.
What are your hobbies?
Not much time for hobbies lately. When I'm not in class, I'm studying and when I'm not studying, I'm sleeping. Does sleeping count as a hobby? Yes, sleeping.
What advice would you give someone who wants to have a career like yours?
Do it. Get involved in programs that facilitate your interest and learn as much as you can from the people who are willing to share their knowledge. 
"I am eager to be exploring the ocean off my home state of California." 
Expeditions
Michael participated in the following Ocean Exploration Trust expeditions: