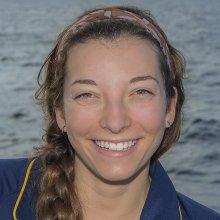 Megan Lubetkin
Science / Data Team
Tell us about your work/research. What kinds of things do you do?
My work is primarily in submarine volcanism, igneous petrology, and geochemistry. Some of my research interests include morphology, structure, and volcanic history of seamounts; hydrothermal biomineralization; marine geophysical data collection and interpretation; and seafloor imaging. For my master's thesis, I characterized the eruption mechanisms and volcanic products of the 1993 submarine eruption at Socorro Island, which produced basaltic balloons. The interplay between many branches of science and engineering within the practice of ocean science and exploration continues to fascinate me. Overall, I am passionate about exploring our oceans and understanding the geological, physical, and chemical systems governing them.
What sparked your initial interest in your career?
Moving to the coast of Maine when I was 14 affected my relationship to natural spaces. Access to the land-sea interstice sparked my initial interest in the ocean. Exploring the systems and structure of the ocean became my deeper objective as I spent more time in, on, and around the ocean.
Who influenced you or encouraged you the most?
My science and music teachers have all encouraged me to ask why and explore what I don't understand through different tools and methods. Their guidance and support made a lasting impact on my approach in research and exploration of all types. My friends and family have motivated and inspired me deeply.
What element of your work/study do you think is the most fascinating?
Working with scientists and engineers on stimulating topics and the thrill of discovery are tremendously fascinating elements of ocean exploration.
What other jobs led you to your current career?
Working as a teaching assistant (URI, Bates), outreach scientist (Narragansett Bay Classroom), research assistant (WHOI, U-Mass), curatorial assistant (Harvard Museum of Comparative Zoology, URI Marine Geological Samples Lab), and interning – has shown me a variety of work and research pathways which led me to my current career.
What are your degrees and certifications?
B.S. – Geology, Bates College, 2016
M.S. – Oceanography, University of Rhode Island, Graduate School of Oceanography, 2019
PADI Rescue Diver
What are your hobbies?
climbing, music, diving, cooking, traveling, motorcycles
What advice would you give someone who is interested in a career like yours?
Ask why, study what you are intrigued by, look for opportunities that relate to your passions, be open to projects that may help you tighten your interests. Taking chances and being proactive is how I got on Nautilus.
How did you get involved with the Nautilus Exploration Program? How did you get on the ship?
I first joined Nautilus as an Ocean Science and Seafloor Mapping Intern in 2015.