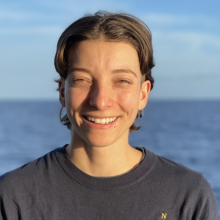 Megan Lubetkin
They/Them
Science / Data Team
Independent researcher
Tell us about your work/research. What kinds of things do you do?
I am an independent ocean researcher interested in collaborative transdisciplinary projects concerning technology, geosciences, ecologies, and human-ocean relations. My scientific background is primarily in submarine volcanism and geochemistry, or the study of underwater volcanic eruptions. To understand deep ocean environments, which are inaccessible to humans without technology, mediation is essential. For this reason, marine geophysical data collection, ROV exploration, and underwater imaging are key components of my scientific interests. As the Science Manager on Nautilus, I ensure that dive interpretation, sample processing, data collection, and curation are accomplished in collaboration with scientists and engineers, aboard and onshore.
My current work traverses disciplines and extends off my background in earth and ocean sciences towards an oceanic study area framed through feminist and queer perspectives and striving to deconstruct colonial narratives in the ocean space.
What sparked your initial interest in your career?
Moving to the coast of Maine when I was 14 introduced me to rocky beaches, tide pools, and the possibility of having a relationship with the ocean. As I spent more time in and around the Atlantic, I decided to pursue earth and ocean sciences.
Who influenced you or encouraged you the most?
Many teachers and mentors have encouraged me to always ask why and follow my interests. Their guidance and support made a lasting impact on my approach to research and writing. My friends and family continue to motivate and inspire me deeply.
What element of your work/study do you think is the most fascinating?
Every expedition I learn fascinating new things from the ocean and the people I work with.
What other jobs led you to your current career?
Working as a teaching assistant (University of Rhode Island and Bates College), outreach scientist (Narragansett Bay Classroom), research assistant (Woods Hole Oceanographic Institution and the University of Massachusetts), curatorial assistant (Harvard Museum of Comparative Zoology and URI Marine Geological Samples Lab), and working with Ocean Exploration Trust at sea and ashore has shown me a variety of possible pathways which led me to my current research interests.
What are your degrees and certifications?
M.S. Oceanography, University of Rhode Island, Graduate School of Oceanography, 2019
B.S. Geology, Bates College, 2016
PADI Rescue Diver
What are your hobbies?
rock climbing, music, diving, motorcycles, cooking, traveling
What advice would you give someone who is interested in a career like yours?
Always ask why, be proactive, and find yourself a good mentor. If you don't see a career that fits your interests, consider paving a new path.
How did you get involved with the Nautilus Exploration Program? How did you get on the ship?
I first joined Nautilus as an Ocean Science and Seafloor Mapping Intern in 2015.