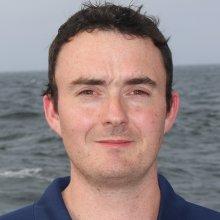 Mark O Riordan
Argus Pilot
ROV Contractor
Tell us about your work / research. What kinds of things do you do?
As an Argus pilot my duties include daily maintenance of the system and pilot time during dives.
What sparked your initial interest in your career?
My father was a commercial diver so I grew up on and around the ocean. This never left me and has shaped the direction that lead me down this path.
Who influenced you or encouraged you the most?
My father for sure. His passion became mine as happens to many sons. I worked with him from an early age and always knew I would never work to far from the ocean and with my interest in electronics the the ROV aspect of exploration almost a natural choice for a career .
What element of your work / study do you think is the most fascinating?
Without any doubt, its the people. To meet such a Collage of interesting people you never stop learning, from all walks of life and education. It really is amazing!
What other jobs led you to your current career?
I trained as a carpenter up until 2008. With the downturn in the economy I had decided to return to college and pursue the career I always wanted. With this and the passion I have for the ocean, it was an easy choice.
What are your degrees and certifications?
BEng Electronic Engineering
What are your hobbies?
Anything to do with the water, Swimming, fishing, diving. If it's on the sea, it's for me!
What advice would you give to someone who wants to have a career like yours?
Dont ever think its to late or that you wont make it. The hard work and persistence will pay off. Learn from everyone you meet. Get involved and ask as many questions as you can. To quote Lisa Simpson "Believe in yourself and you can achieve anything"
How did you get involved in the Nautilus Exploration Program? How did you get on the ship?
I met an amazing and talented electrical superintendent who introduced me to the company that oversees the crewing of the vessel. Together they took a chance and offered me a place as a electrical intern aboard the vessel during the winter fit out. While here I was offered an ROV intern position and then asked this year to return as an Argus pilot. Without them I might never have gotten the chance.
Expeditions
Mark participated in the following Ocean Exploration Trust expeditions: