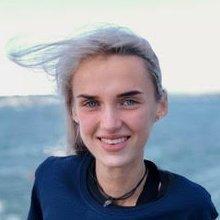 Liza Chubar
Ocean Science Intern
Secondary School Student
Ardscoil na Mara, Tramore
Tell us about your work/research. What kinds of things do you do?
I am very interested in marine science and I am qualified as a general high school student science degree. I love studying plant and animal life and their habitats. I am also a qualified open water deep sea diver and spend a lot of time in the ocean.
What sparked your initial interest in your career?
I started studying marine science as I was always very interested in oceanography and science. My favorite school subject was always biology and science so I decided to try and explore new ways I could incorporate those subjects into my life.
Who influenced you or encouraged you the most?
My high school science teachers as well as my father were really encouraging and believed that I could be successful and a great asset in this field of work/ training. 
What element of your work/study do you think is the most fascinating?
The most fascinating thing I have done recently was deep sea diving among all ocean creatures, as well as underwater ocean archaeology.
What other jobs led you to your current career?
I have had many opportunities with deep-sea diving and underwater archaeology as well as marine biology workshops that I enjoy doing very much that finally led me to join the EV Nautilus team. I think it's a great opportunity to be on board the Nautilus and it is certainly a great way to explore a new career sector.
What are your degrees and certifications?
Junior certificate graduate 2017- Ardscoil na Mara, Tramore.
Padi certified Open water diver.
Rescue 1 certified lifeguard in training.
What are your hobbies?
Some people consider me to be ' Ms. Sport'. My hobbies include soccer, dancing, gymnastics, swimming, surfing, scuba diving and cliff diving. I also enjoy acting, singing and drawing. At home, I spend a lot of time playing my guitar and violin also.
What advice would you give someone who wants to have a career like yours?
If you are thinking to obtain a career in ocean science, my advice for you is to greet any opportunity you have to work or take an internship with other marine biologists. Engage in marine biology workshops and most importantly, make sure you enjoy the work you do. Do anything to further develop your knowledge and science skills if that really is your interest and I am sure it will benefit you greatly.