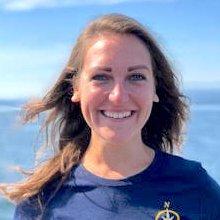 Liva Goba
Science/Data Team
Nippon Foundation GEBCO Training Program Scholar & Cartographer
Maritime Administration of Latvia
Tell us about your work/research. What kinds of things do you do?
As a Cartographer, I enjoy making ENC Nautical and Paper Charts, Update of "List of aids to Navigation" and "Sailing Direction" after "Notice to Mariners", manual correction of paper charts and hydrographic data collecting and processing. Professors and Captains in CCOM/JHC were sharing the best practices in Ocean Mapping. Their passion, course materials, and examples opened my eyes and curiosity about hydrography, seamanship, weather, geology, seismology, tides, Law of the Sea, math, and programs used to process the data.
What sparked your initial interest in your career?
"Water is the driving force in nature." /Leonardo da Vinci/
Water is something I love, something I respect. We were living approximately 578 steps from the Baltic Sea. My father is working in the harbor and he used to take me and my sister on the boat. I love to watch him in action, I admire his work and professionality. When I was a child quite often I was wondering how the vessels can navigate so confidently. That intrigued me so much, that was the beginning…
Who influenced you or encouraged you the most?
My family, friends, and colleagues encouraged and supported me in every decision I have made… every person on my path has played a role in strengthening my curiosity to know more. Passion is definitely contagious. As we are living in the 21st century, internet, books, articles help to answer the questions that arise in the mind.
What element of your work/study do you think is the most fascinating?
Water is a strong element. There is a magic of the moment to be near or in the sea. We are having incredible tools and technologies. And the best part is that the underwater world is so unknown and mysterious. I believe in ability the to figure things out. There are a lot of things and places to explore. To survey and see how the seafloor is changing by depth and shape, and afterward see it all in 3D is so spectacular.
How did you get involved with the Nautilus Exploration Program?
Thanks to Rochelle Wigley of the Nippon Foundation GEBCO training program, I was informed about the chance to be involved in the Nautilus Exploration Program. After applying, a few weeks later Larry Mayer from CCOM/JHC announced the brilliant news that I was accepted. It will be my first long exploration trip and the first time I have touched the Pacific Ocean in my life. The opportunity to be part of the team and learn from professionals, scientists, researchers, enthusiasts is the ultimate luxury.
What other jobs led you to your current career?
Each job I have had has given me experience and life lessons. I started my journey as a waitress in pizzeria. Parallel to studies, I worked as a surveyor assistant, then as a senior specialist in Latvian State Border Guard. I appreciated the time when I worked in Interior Study and helped clients to choose the best furniture and decorations for their space. Each person was welcomed as a guest in our showroom.
At this point, I am fortunate to work in the Maritime Administration of Latvia as a Cartographer and to have had such an amazing opportunity to study Hydrography through GEBCO Training program. I'm so grateful to be here. It is brilliant to see with what kind of methods and tools the soundings that a cartographer gets from hydrographer originally come from. From this point, everything makes even more sense.
What are your degrees and certifications?
Bachelor of Civil Engineering with specialization in Geodesy and Cartography (2009) and Master's Professional Degree in Geomatics and Engineering, Qualification in Geodesy and Cartography (2012), both from the Riga Technical University (Latvia),
CAT B training course "Marine Cartography and Data Processing", United Kingdom Hydrographic Office (2016)
Hypack, QPS Qimera, Fledermaus, CARIS: S-57 Composer, Paper Chart Composer, Hips & Sips training courses.

What are your hobbies?
A go-to for me is a coastal walk. It never fails and always gifts me something incredible, whether it's the colours in the sea or sky, the flotsam that has been washed ashore – it's ultimate in colour combination, shape, layering, proportion, sound… feeling when the fresh air move against the cheeks.
I love swimming, paddle boarding, pick herbal teas in early summer, gather mushrooms in autumn, travel, and going to the library to look at art, design and maritime books and magazines. I love discovering new things this way.

What advice would you give someone who wants to have a career like yours?
It's important to be flexible and react to the moment. Look, watch, listen to the experts when you need to. Read their publications, books, articles. It requires constant education and confidence to wear those titles in the world. Never give up. Believe yourself and enjoy the journey! That is the really interesting – and even thrilling – part.