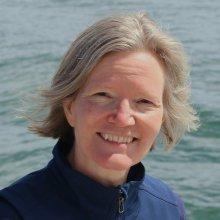 Linda Fergusson-Kolmes
She/Her/Hers or They/Them/Theirs
Science Communication Fellow
Community College Biology Instructor
Portland Community College
Tell us about your work / research. What kinds of things do you do?
I teach many different biology classes to undergraduates at a community college. My students are all different ages and come from a wide variety of backgrounds. It is my job to help them figure out how they fit into the biological world and what role that is going to play in their educational journey.
What sparked your initial interest in your career?
Biology has always fascinated me. I was the kid who collected slugs and brought home snakes and tadpoles. In college, I fell in love with invertebrates and got involved in honey bee research. My first job was in a research lab at the New York State Agricultural Experiment Station. It was a great opportunity to see research in an applied context. After graduate school, I moved back to the west coast and had an opportunity to manage a grant for the Tillamook Bay National Estuary project and begin teaching. Teaching had not been on my radar but it turned out that sharing the wonders of a tide pool with a group of students was just about the perfect job.  
Who influenced you or encouraged you the most?
Many people have been amazing along the way. The professor who taught my first biology class gave a lecture on his own research at the end of the term. I can still remember sitting in that lecture hall as everything around me disappeared as I became completely transported by his story. I went to talk to him and ended up doing undergraduate research in his lab for the next four years. I even met my husband working in that lab! But it is never just one person. The path I have taken would not have been possible without the support of my graduate school advisor and my first teaching mentor. Now, not a year goes by that I am not inspired by my students.
What element of your work / study do you think is the most fascinating?
I never cease to be fascinated by the new things scientists are learning about the marine world. There is still so much we do not know but when there is that leap in understanding, I love bringing it back to share in the classroom.
What other jobs led you to your current career?
My path to my current career was anything but linear. There have been research jobs in multiple countries working on all kinds of systems. I have spent hours gluing labels on the backs of honey bees, planted endless numbers of plants to raise spider mites, dug for soil-dwelling insects in vineyards and logged hours on a microscope watching embryonic fish hearts develop. I always jump at the chance to get hands-on-experience trying to figure out how things work. Teaching turned out to be the perfect way to share my love of biology and the excitement of exploring through science. Helping students find their passions and empowering them to believe they can make a difference is my way of giving back. 
What are your degrees and certifications?
Bachelor of Science in Biology--Simon Fraser University 1987; Masters of Science--Cornell University 1993.
What are your hobbies?
I like yoga and anything that gets me on the water. When it is too dark to be outside I like to knit and watch old movies.
What advice would you give to someone who wants to have a career like yours?
There is never just one path to a career that you love. Take advantage of opportunities to explore and learn. You never know what will come in handy down the road. Don't let fear of failure keep you from trying new things. You take everything you learn with you, including the painful lessons. Dreams are long term things; sometimes you have to remember to dust them off.
How did you get involved with the Nautilus Exploration Program? How did you get on the ship?
I was part of an oceanography workshop called the Maury Project. At the end, one of the instructors, Captain Emil Petruncio, shared his experiences with the Ocean Exploration Trust and encouraged us to apply to the Science Communication Fellowship.
Expeditions
Linda participated in the following Ocean Exploration Trust expeditions: