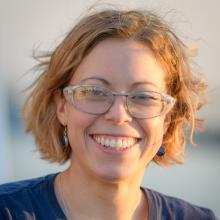 Kylie Pasternak
Argus Pilot
Undergraduate Student
Bristol Community College
Tell us about your work/research. What kinds of things do you do?
I went to a community college for a general engineering degree, and during my time there, I looked for opportunities to learn more about the ocean through various research experiences. For example, I learned about the speed of sound profile in ocean water by exploring partial derivatives in Calculus III and learned about piezoelectric effect used for underwater acoustic transducers in my Physics coursework. But the best and most enlightening work I've done so far has involved volunteering with kids in the community. 
What sparked your initial interest in your career?
Growing up, I didn't have any of my own first-hand experiences with the ocean, so I relied on the stories my dad would tell me about his time in the U. S. Coast Guard. When remembering his experiences, his demeanor would change from buttoned-up police officer to adventurer. I felt like I wanted to explore whatever it was that could make me feel that way too.  
Who influenced you or encouraged you the most?
I have a mentor that I affectionately refer to as "my fairy godfather." He was the professor of the first class I ever took related to anything ocean related. His name is C. Eben Franks, and he has become a huge source of encouragement and wisdom for me as I've worked through how I fit into the field of oceanographic technology. I remember all the time how he would show us pictures of people doing research, on research vessels, out deploying instruments, and said, "They are people just like you." I didn't believe him, but he's really made it easy for me to see for myself that there's a place for anyone with a passion for the ocean and once you find it, it's like finding the wind in your sails. 
What element of your work/study do you think is the most fascinating?
The piece of ocean exploration that excites me the most is the challenge of advancing the technology so that we the narrow the margin of what can be learned from the ocean. I want to be able to develop ocean instruments that can collect everything any scientist could possibly want from the ocean in terms of raw material and data. 
What other jobs led you to your current career?
I worked at a state beach for 3 years, and then on the waterfront of an urban park in my city doing labor work, where I could spend all day looking out onto the water. What I learned from my time there, was that as beautiful as water is to look at, a passive relationship won't do it justice! 
What are your degrees and certifications?
Associate in Science in Engineering Transfer -- Bristol Community College 2018; Certificate in Geographic Information Systems -- Bristol Community College 2018
What are your hobbies?
I like to spend time outside walking city blocks, looking at the different yards and buildings around my city and hiking in the woods learning to identify birds and trees. I also love to go to the movies, sing-a-long to my favorite songs, and dance whenever the occasion calls for it.
What advice would you give someone who wants to have a career like yours?
If you're reading this, and you have interests that you want to explore - reach out to your school, or local community center and see what kinds of ways that they can help you or that you can help them! Through what I like to call "educational volunteerism," me and the local students I've gotten to work with have had the chance to do hands-on projects that explore all kinds of concepts in fun ways like creating rainbow bookmarks to visualize the nanotechnology that goes into solar panels, competing for most efficient blade design of a wind turbine, building personal mechanical water filtration systems, and hosting ROV-in-a-bag workshops. Donating my time has connected me with like-minded individuals and given me a way to explore science and leadership in a really purpose-filled way. 
How did you get involved with the Nautilus Exploration Program?
While participating in an Ocean Glider program at Rutger's University Center for Ocean Observing Leadership (RU COOL) I got the chance to stay with and learn from Liz Sykes, Associate Professor of Paleoceanography and Marine Organic Geochemistry for the college. She answered a lot of my questions about finding my way in this field and suggested that I'd be well suited for off-shore work. From there, I discovered OET and Nautilus Live!