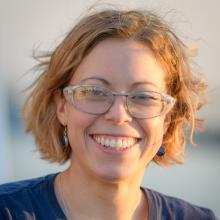 Kylie Pasternak
Argus Pilot
Undergraduate Student
University of Rhode Island
Tell us about your work/research. What kinds of things do you do?
I am a marine technician and submersible pilot.
What sparked your initial interest in your career?
It started with a project researching the Thomson sounding Machine expeditions on the USS Tuscarora (1874) that led to the discovery of the Kuril-Kamchatka Trench, one of the great boundary trenches of the Pacific Ocean. The device used a long line of piano wire with a weight on the end and reading the logs from the expedition excited me in a way that still brings me chills. I wondered about how the way we study the ocean has changed nearly 150 years later and so I dove into learning about our current oceanographic technologies and fell in love with underwater submersibles.  
Who influenced you or encouraged you the most?
Having my Dad's support to chase my dreams means a great deal to me.  
What element of your work/study do you think is the most fascinating?
The advancement of submersible technology and the possibilities for future developments and applications makes me the most excited.  
What other jobs led you to your current career?
Glider Technology Training Marine Technology Society (2017)
Transducer Development Intern - BTech Acoustics (2017)
Underwater Imaging and Submersible Intern - Marine Imaging Technologies (2018)
DSV Alvin Intern - R/V Atlantis, MATE Center Sponsorship (2019)
Glider Technician - Teledyne Webb (2019)
Marine Technician - R/V Endeavor. University of Rhode Island, (2020)
What are your degrees and certifications?
Associate of Science, Engineering (2018) - Bristol Community College, Fall River, MA
Certificate, Geographic Information Systems (2018) - Bristol Community College, Fall River, MA
IPC Certified Solder and Crimp/Wire Harness Specialist (2019)
DSV Alvin Qualified Maintenance Technician (2019)
The Crosby Group Lifting and Rigging Certification (2020)
What are your hobbies?
Yardwork and gardening; bird watching; spending time with my dog; having fires with friends; watching Jeopardy; listening to podcasts; dancing and singing.
What advice would you give someone who wants to have a career like yours?
No matter where you're at towards this kind of career - learn the industry vocabulary, ask questions and ask for help when you need it; find subject matter books; volunteer with groups that are related to your career interests - it's a great way to find mentorship; learn how to secure things at sea (ie knots, ratchet straps).

No one in this industry has the same exact path to getting here. Everything you do to prepare yourself and learn is going to benefit you - every effort will get you a little closer to where you're heading. Keep looking for those foot holes that will help progress you on your path. Don't give up.
How did you get involved with the Ocean Exploration Trust?
My first ever at-sea experience was as through OET's Science and Engineering Internship Program. I came on as an ROV intern and have continued working on the Nautilus as a full-fledged Argus pilot.
Expeditions
Kylie participated in the following Ocean Exploration Trust expeditions: