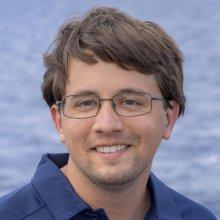 Kristopher Krasnosky
Navigator, High Resolution Mapper
PhD. Student
University of Rhode Island
Tell us about your work/research. What kinds of things do you do?
I specialize in marine vehicle sensing and control and work on Hercules' laser mapping system to create high-resolution maps of the seafloor. In particular, I have been working on real-time methods of representing and interpreting multibeam and laser data. 
What sparked your initial interest in your career?
I loved the ocean, boats, and sailing for as long as I can remember. In school, I developed a real interest in science. Eventually, I had the crazy idea that I could do both as a career.
Who influenced you or encouraged you the most?
I had a few science teachers in high school that really pushed me. In college, my physics professors taught me what it meant to work hard and really taught me how to learn complex science. My advisors in graduate school have provided endless support, guidance, and encouragement. Finally, my parents have provided unwavering support through it all.  
What element of your work /study do you think is the most fascinating?
I love to develop software or hardware and see it used to explore something totally new.  
What other jobs led to your current career?
I worked as a sailboat captain and sailing instructor for about 4 years. Through my time as a captain, I learned a lot about working and living at sea. It also taught me a lot about working and communicating with people.
What are your degrees and certifications?
Bachelor Physics -- Ohio Wesleyan University; Masters of Science in Mechanical Engineering -- Drexel University 2014; Merchant Marriner captain's license --Master 50 Ton 
What are your hobbies?
I love anything to do with sailing and enjoy flying powered airplanes and gliders. I also like to tinker with radio control/robotic airplanes, multicopters, and boats.  
What advice would you give to someone who wants to have a career like yours?
You may not always see a clear path to your goal. Don't get discouraged. If you know what you really want to do just keep working at it and don't give up. If you keep your goal in mind it is hard to take a totally wrong turn. Eventually, you will see more and more opportunities pop up. Just don't be afraid to take them!
How did you get involved with the Nautilus Exploration Program? How did you get on the ship?
I work with Dr. Roman's lab which is responsible for the mapping system on Hercules.