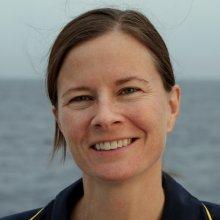 Kerry Whalen
Video Engineer
Video Technician
Kerry is working with the video telepresence group onboard the E/V Nautilus.
Kerry is a freelancer in television and video production. This is her fifth season as a team member on board the Nautilus. When not on board Kerry freelances in broadcast, news, and sports television production as well as corporate and educational video production. On board the Nautilus the video department sends live high definition video to viewers on Nautilus Live as well as the Inner Space Center.
Kerry graduated with a BA in communication from Boston College.
Expeditions
Kerry participated in the following Ocean Exploration Trust expeditions: