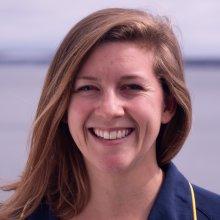 Kelly Ferron
She/Her
Lead Science Communication Fellow
Marine Pollution Prevention and Outreach Specialist
WA State Dept of Ecology
Tell us about your work/research. What kinds of things do you do?
I work to communicate how pollution impacts marine ecosystems in Washington and then find solutions for protecting marine life and healthy oceans. This includes coordinating outreach on how preventing pollution, such as excess nutrients and ocean acidification, is important for protecting important marine creatures in Washington, like the yummy oysters we love to eat in Washington to endangered species of salmon and orca whales. My work is focused on communicating to lots of different people: the general public, other scientists, those causing pollution, and legislators. My goal is to effectively communicate and use science so that people can understand how we are all connected to nature and the ecosystems around us.
What sparked your initial interest in your career?
I've always loved the diversity of marine creatures—from crazy-colored nudibranchs to graceful sea lions and awkward guillemots. Through recognizing that the ocean is what allows all of us to live on this earth, I wanted to learn more about these creatures and explore more of the vast ocean. I want to find ways for humans live in harmony with and in awe of the ocean. This recognition led me to work on policy to prevent plastics from entering the ocean, work as a naturalist guiding groups on kayaking expeditions through the Salish Sea, and to attend graduate school to study how to make impactful change through education and policy.
Who influenced you or encouraged you the most?
My professor in college taught courses that simultaneously challenged his students academically, built community, and used experiential learning (like an awesome kayaking science course in Baja!) to encourage environmental leadership. He is always delighted by nature and is the first to point out and name the creatures and ecology around him, which has inspired me to live life as a naturalist. He encouraged me to push myself in classes, notice the nature around me, adventure more, and experience the world! 
What element of your work/study do you think is the most fascinating?
The most fascinating part of my work and studies have been experiencing the awe of nature with others and how this can inspire and engage communities to make a change. Marine ecology has always been fascinating to me, but even better is finding a hidden seastar with an elementary class while tide-pooling or guiding a kayak trip while a pod of orcas swim by. The more people understand and appreciate the world around them, the more engaged they can become to protect it. 
What other jobs led you to your current career?
I've had a lot of great opportunities that eventually led me back to graduate school. I worked in habitat restoration removing thorny blackberry bushes and planting native plants, worked for the local government to pass plastic bag bans and encourage waste reduction, taught elementary school students about the intertidal zone, led tours of recycling centers, guided kayaking expeditions, and taught undergraduate biology courses. Each job taught me entirely different skills—from learning science to understanding different communities and their values.
What are your degrees and certifications?
Bachelor of Science in Environmental Science, Minor in Spanish Studies—Santa Clara University 2010;
Masters of Environmental Science: Coastal and Marine Resource Management, UCSB 2018
What are your hobbies?
I love sea kayaking, hiking, biking, SCUBA diving and getting outside to explore new ecosystems! I also love to travel and am in search of the world's best burritos and donuts.
What advice would you give someone who wants to have a career like yours?
If something calls you, follow it. Some of the best skills I gained were in non-conventional settings, like backing packing solo through South America and leading kayaking expeditions. You can explore your passions in a lot of different ways and shift your focus as you continue to acquire skills.  
How did you get involved with the Nautilus Exploration Program? How did you get on the ship?
I first heard about the Nautilus program after meeting with a woman from the Channel Islands National Marine Sanctuary office, where the Nautilus sailed in 2017 and 2018. After hearing my interest in science communication, she encouraged me to apply and I was lucky enough to be chosen and feel even luckier to return again!
Expeditions
Kelly participated in the following Ocean Exploration Trust expeditions: