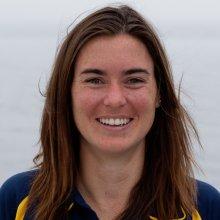 Katelyn Standerfer
Science Communication Fellow
High School Chemistry Teacher
San Marcos High School
Tell us about your work / research. What kinds of things do you do?
I use my background in Aquatic Biology to bring chemistry to life in a way that my students can relate to. Living so close to the ocean affords many opportunities to create examples of the topics we learn about in chemistry. I am always on the hunt for new ways to bring my material to life in ways that are relevant to my students in a meaningful way. 
What sparked your initial interest in your career?
I started out as an Aquatic Biology major in college because I was concerned about the effects of climate change on the ocean. As I progressed through my college career, I started working at the Research Experience and Education Facility (REEF) as an informal science educator. It was here that I discovered my love of teaching. I realized that if I wanted to make an impact on the world, my role would be to educate future generations to see and correct the negative influence people have had on our planet. I realized that my calling in life was to use my infectious excitement for science to infect my students the same wonder I once felt so that they could go on to become scientifically educated citizens of the world. 
Who influenced you or encouraged you the most?
My science teachers have always been the most influential people in my life. I had many fantastic teachers, but the most influential were my 7th grade biology teacher, my 10th/11th grade chemistry/AP Bio teacher, and my 12th grade AP Environmental Science teacher. They saw my potential and curiosity and fostered it in a way that encouraged me to pursue science teaching as a career. 
What element of your work / study do you think is the most fascinating?
The most fascinating aspect of my work is watching my students learn. Every student comes in to my class with a different background and a different set of knowledge. I am constantly amazed by how they use their own knowledge and apply it to what we do in class each day. They are so creative with their solutions to problems and seeing that makes me excited to teach each day.
What other jobs led you to your current career?
My first real opportunity to teach came when I was hired at the Research Experience and Education Facility as an informal science educator. Here I led a wide variety of age groups through lessons designed to teach them about the kelp forest habitat right off the Santa Barbara coastline. In my junior and senior years, I was able to teach a section of undergraduates in a class entitled Biological Concepts and Controversies. It was here that I recognized my talent and passion for classroom teaching and decided to turn my focus toward becoming a formal science educator. I completed my Masters in Education and went on to become a Chemistry teacher. 
What are your degrees and certifications?
Bachelor of Science in Aquatic Biology with a Minor in Science Education-University of California, Santa Barbara 2012; Masters in Education-University of California, Santa Barbara 2013
What are your hobbies?
I love being active and outdoors! I was on the rowing team in college and still compete each year in our school's alumni boat. I enjoy scuba diving, hiking, and running. You can also find me curled up with a good book and a hot cup of tea. 
What advice would you give to someone who wants to have a career like yours?
Teaching is about so much more than knowing the content. It is about people skills and the ability to relate to your students. The most successful teachers were not necessarily the ones that knew the most, but the ones who helped me understand why what they were saying was important to me. They were able to create relevance in the material that became integral to my continuing passion for science. 
Expeditions
Katelyn participated in the following Ocean Exploration Trust expeditions: