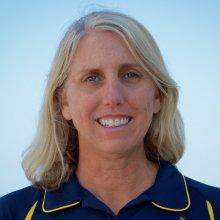 Julie Bursek
Scientist Ashore
Team Lead Education and Outreach
NOAA Channel Islands National Marine Sanctuary
Tell us about your work / research. What kinds of things do you do?
I primarily develop education programs, exhibits, products, and partnerships that increase awareness about the Channel Islands National Marine Sanctuary's cultural, maritime heritage, and living resources. As the Unit Diving Supervisor, I also work closely with the research, maritime heritage, and education teams to coordinate projects aboard our research vessels that involve SCUBA dive operations. I've spent over 25 years years conducting scientific investigations of the offshore, shallow subtidal and intertidal systems of the southern California Bight including the Channel Islands. My professional experience includes the development and implementation of floating laboratory educational and research programs and the coordination of community based volunteer programs and partnerships with community businesses, science educators and research institutions to promote environmental awareness and stewardship in the classroom, at community festivals and events.
What sparked your initial interest in your career?
I've always been inspired by the power of the ocean and the marine life hidden just beyond the waves. When I was a young child, my Dad taught me to sail on our sail boat, the LANIKAI. We'd spend many weekends out at sea racing, or sailing around local bays and beaches with family and friends. Some of my fondest childhood memories are from the many summers I spent at the beach, exploring tide pools, boogie boarding, and sailing.  
Who influenced you or encouraged you the most?
In high school, I was fortunate to have a great marine biology teacher who encouraged me to follow my passion for the ocean and pursue a marine science degree in college. I am so glad I followed her advice. I've always been interested in marine ecology and the oceanographic influences that shape different communities. I love what I do - and I love the fact that my career offers me constant opportunities to explore our ocean and observe marine wildlife in it's natural setting.  
What element of your work / study do you think is the most fascinating?
In addition to SCUBA diving, I'm constantly fascinated by new discoveries from the latest technology tools (satellite and acoustic tags, UAVs, ROVs, Multibeam, etc.). The ocean is truly the final frontier for exploration. I really enjoy working with researchers that use cutting edge technologies to address current resource protection issues, like climate change and ocean acidification, and improve our understanding of ocean resources and processes.  
What other jobs led you to your current career?
After I received my bachelors in Aquatic Biology from UC Santa Barbara, I landed my first marine science job as a lab technician/instructor at the Catalina Island Marine Institute (CIMI). That job really solidified my understanding of marine ecology and oceanographic factors that influence community structure. As it turns out, that first job was also a fortuitous move towards creating my network within the ocean conservation community. Many of my current colleagues within NOAA, and the ocean industry along the West Coast, started their careers out at CIMI. From there, I accepted a position as Director of At Sea Programs with the Orange County Marine Institute (now Ocean Institute) in Dana Point Harbor, California. It was there that I really honed in on what I wanted my career aspirations to be in ocean conservation. I learned different pedagogical techniques to effectively engage different audiences in marine science and exploration programs. Also, during that time, I enrolled in the graduate marine science program at CSU Fullerton because I knew that to get where I wanted in an ocean conservation career, I needed to have a graduate degree in marine sciences. In 1999 I was hired by NOAA's Channel Islands National Marine Sanctuary to manage education and outreach; I've been with the organization ever since. My background in science, diving, science communications, and education and outreach has positioned me well in my current position to effectively engage boaters, divers, fishers, ocean enthusiasts, families and youth in ocean conservation and stewardship.  
What are your degrees and certifications?
Bachelor of Arts Aquatic Biology - University of California Santa Barbara 1988
Master of Science Biology - California State University Fullerton 2004
NOAA Working Diver 2010
NOAA Dive Master 2014
National Association for Interpreters Certification 2014
NOAA Unit Diving Supervisor 2015
DAN Professional First Aid for Divers Instructor 2015
What are your hobbies?
I love SCUBA diving, sailing, boogie boarding, and swimming. I also really enjoy skiing and mountain bike riding. Most of all I enjoy creating outdoor adventures for my 3 kids.
What advice would you give to someone who wants to have a career like yours?
There are many career opportunities that support ocean conservation and management. My advice to students is that if they have a passion for the ocean, they can make a career out of it. NOAA's mission, as the Federal Science Agency, supports many different skills including computer modeling, mapping with GIS, computer graphic design, education, communication, and research in biological and oceanographic sciences. NOAA also employs pilots for it's fleet of planes, captains, engineers, and crew for it's fleet of vessels, SCUBA divers and ROV pilots to help support scientific missions. Networking is important - get to know the industry and different organizations that are involved. I encourage students to apply whatever their skill sets and interests are to a career in ocean conservation. You don't have to be a traditionally trained marine biologist or oceanographer in this field.    
How did you get involved in the Nautilus Exploration Program? How did you get on the ship?
The NOAA Office of Exploration and Research is partnering with the Nautilus Exploration Program to support deep sea exploration of the West Coast National Marine Sanctuaries. I'm working as one of the Chief Scientists for the Channel Islands National Marine Sanctuary to identify and prioritize mapping and ROV Survey targets during the expedition.
Expeditions
Julie participated in the following Ocean Exploration Trust expeditions: