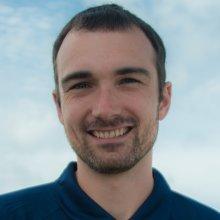 Jonathan Zand
He/ Him
Hercules Pilot
ROV Engineer
Ocean Dynamics Inc.
Tell us about your work / research. What kinds of things do you do?
As an ROV Engineer at Ocean Dynamics, I contribute operations and technical expertise that ensures the underwater systems can perform the tasks requested by explorers, researchers, and surveyors. I meet with users to develop dive plans, design custom devices for underwater systems, perform repairs and upgrades on hydraulic, electrical, and fiber-optic components, and go to sea to pilot the ROVs. 
What sparked your initial interest in your career?
I got into the ROV industry through my interests in technology and the ocean. I grew up in the coastal village of Kyuquot, BC, Canada, and have always enjoyed being near the water. After completing a degree in Mechanical Engineering, I was intrigued by a research opportunity focused on small ROV navigation, so I completed a masters on the subject, and have been working in the underwater technology industry ever since.
Who influenced you or encouraged you the most?
My Dad, a math and science teacher, pushed me to develop hands on skills early on. He said, if I wanted to play computer games or drive go-karts, I'd have to make them myself. My deprived childhood helped me develop skills and confidence that made my academic and technical endeavors relatively easy. 
What element of your work / study do you think is the most fascinating?
Piloting an ROV to explore and interact with a part of the Earth not otherwise accessible by humans is awesome.  
What other jobs led you to your current career?
While completing my master, I did occasional contract work, operating a Falcon ROV for Suboceanic Sciences Ltd. After I graduated, I worked a few years at Ocean Networks Canada as their Systems Integration Engineer. This is where I learned a lot about deep ocean deployments, underwater science instrumentation, fiber optic communication, and project management. I then moved on to Ocean Dynamics which gives me an opportunity to work with a range of deployments all over the world.
What are your degrees and certifications?
Bachelor of Applied Science in Mechanical Engineering - University of British Columbia 2005; Masters of Applied Science in Mechanical Engineering focused on ROV tether management and navigation - University of Victoria 2009.
What are your hobbies?
I have a hobby farm with goats, pigs, chickens, and ducks. I also like to sail, but haven't had much time to do that since I started farming and building a house. I'm a volunteer firefighter, which gives me comradery with a great bunch and access to a lot of training.
What advice would you give to someone who wants to have a career like yours?
If you want to be an ROV pilot, develop the skills to repair an ROV. A mechanical aptitude and an understanding of instrumentation electronics are key skills to have on your resume. Cabin space on ships is often limited so being able to fill a range of roles is a huge asset. Also, try to get some sea time, either through an internship like that offered on the Nautilus or by volunteering in the marine industry. Keep in mind that this line of work requires you to go to travel and go to sea for weeks at a time - this is considered a bonus for some, but does not fit everyone's lifestyle.
How did you get involved with the Nautilus Exploration Program? How did you get on the ship?
I work with another Hercules pilot, Josh Chernov, at Ocean Dynamics, and through him, I was given the opportunity to be an Argus pilot for the Shakedown and GISR expeditions in 2015.  
"I love working with ROVs and using them to explore the ocean."
Expeditions
Jonathan participated in the following Ocean Exploration Trust expeditions: