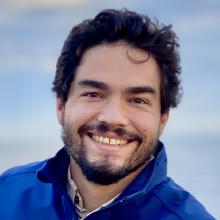 Jonathan Fiely
Immersive Camera Lead
Media Production Specialist / Cinematographer
Ocean Exploration Trust
Tell us about your work/research. What kinds of things do you do?
I lead OET's production team to create media that share the incredible excitement of science and exploration. My job on any given day can be incredibly varied while we juggle projects at different stages of production - cinematographer, writer, editor, engineer, interviewer, logician, scientific scholar - the list goes on! But core to everything is a focus on creative, impactful storytelling and a drive to always keep exploring new ways of connecting to our audiences.
What sparked your initial interest in your career?
I spent countless hours watching National Geographic and David Attenborough's specials as a kid but never consciously said to myself: 'I want to be a filmmaker!' Instead, I came to this career through my desire to learn more about the secret lives of animals in the wild, and the encouragement of some incredibly talented scientists, engineers and filmmakers along the way.
Who influenced you or encouraged you the most?
My undergraduate advisor always encouraged me to 'lead through action' and never, ever, ever, ever stop asking questions. I've held the advise very close my heart as I've traveled, learned, and listened.
What element of your work/study do you think is the most fascinating?
Without a doubt it's the fantastic questions I get to explore on any given day: "What was that animal thinking?! Where did it go - what does it do - how is it related to that thing over there?!?!!" I love sharing excitement, and am honored to support our network of scientists, conservationists, and explorers across the world!
What other jobs led you to your current career?
I received my degree in Wildlife Biology (B.S.) from the University of Alaska Fairbanks (Nanooks!!) exploring the great outdoors and receiving a fantastic, hands-on approach education. It led me directly into a series of jobs in field biology that gave me experience with a huge variety of species: capturing harbor seals, tracking bats, studying underwater hearing in ducks, and communication in tenrecs. It's the latter that gave me 'my big break'. While working in Madagascar I met a crew with the BBC's Natural History Unit who wanted to film the tenrecs I was studying. This gave me the opportunity to learn the craft from some of the best cinematographers and producers in the world - I will never forget their generosity of spirit! I'd go onto help film several series for the BBC, Discovery, and Animal Planet.
What are your degrees and certifications?
Bachelor of Science in Wildlife Biology - University of Alaska Fairbanks 2006
Masters of Science in Environmental Law and Policy - Johns Hopkins University 2017
Unmanned Systems Aircraft Pilot (Part 107)
What are your hobbies?
I'm the proud father of twins who occupy 110% of my time when we're not out exploring. My wife and I are avid geeks and sci-fi/fantasy nerds - reading to them everyday, we can't wait to introduce them to our favorite literary worlds!
How did you get involved with the Ocean Exploration Trust?
A friend and colleague shared the job announcement and encouraged me to apply.
What advice would you give someone who wants to have a career like yours?
Take any opportunity you possibly can and never stop being curious to learn! A career like mine relies so much on knowing the right questions to ask rather than knowing the right answer all the time. Oh, and definitely don't forget to learn practical skills on the way - when things break or plans go awry, it's always good to be known as the person who can handle it!
Expeditions
Jonathan participated in the following Ocean Exploration Trust expeditions: