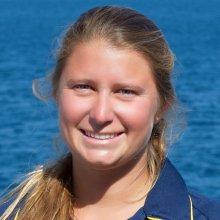 Jessica Schem
Mapping Intern
Environmental Scientist
McAlister GeoScience
Tell us about your work / research. What kinds of things do you do?
I work as an environmental scientist primarily writing Phase 1s and Phase 2s and doing environmental remediation. I analyze anything that could affect soil or groundwater at our Subject Properties. I also work as a marine biologist part time doing long term monitoring. Long term monitoring is important to see changes in our ocean environment.
What sparked your initial interest in your career?
I grew up in Southern California as a swimmer, surfer, sailor and all around water woman. My love for the ocean has driven my interested in preserving our beautiful water resources. I decided to peruse a degree in marine biology at the University of California, Santa Barbara where I had many opportunities to participate in research with some great scientists and fellow ocean lovers. I am trying to follow my dream of working with the ocean and looking forward to my time on the Nautilus.
Who influenced you or encouraged you the most?
My family and friends have always been really influential in my life. They have always encouraged me to follow my dreams and do what I love.
What element of your work / study do you think is the most fascinating?
After I graduated from UCSB I had a once in a lifetime opportunity to participate in research on Palmyra Atoll. It is a small volcanic island (about 6 miles wide) right in the middle of the Pacific Ocean. Palmyra is a marine reserve and research station and is one of the most remote islands in the world. I was able to stay there for 3 months working on some fish and shark research.
What other jobs led you to your current career?
I worked on Catalina Island at Camp Emerald Bay for five summers and was able to meet my current boss. I am still persuing a career in marine science and the following opportunities have helped; PISCO scientific field technician doing long term monitoring of fish, benthic, and algal species, Aquarist at Camp Emerald Bay, Reef Check intern, Reef Environmental Education Foundation intern, Palmyra scientific field technician, Vantuna Research Group diver.
What are your degrees and certifications?
Bachelor of Arts in Biology focusing on Marine Biology and minor in Geographical Information Systems from the College of Creative Studies at University of California, Santa Barbara.
AAUS research diver, Nitrox diver, Rescue diver, CPR, AED, First Aid, O2 provider, and American Sailing Association (ASA) Courses 101-104, and currently working on my Captains License.
What are your hobbies?
I love anything that you can do in the water especially, swimming, surfing, sailing, diving and exploring.
What advice would you give to someone who is interested in a career like yours?
Lots of hard work and networking!