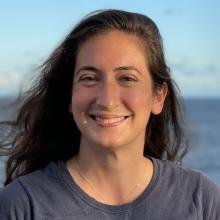 Jessica Sandoval
She/Her
Hercules Pilot
Contractor & Postdoctoral Researcher
Harvard Univeristy
Tell us about your work/research. What kinds of things do you do?
I work in the field of bioinspired engineering, where I combine concepts from biology, engineering, and materials science to learn from interesting, naturally occurring processes to enhance engineering designs. For my Ph.D., I focused on designing fish-inspired adhesives for reversible attachment underwater. I used these to enable robotic manipulation and locomotion in both underwater and surgical applications. As a postdoctoral researcher, I am working on developing long-lasting, reversible attachment devices for whale tags, as a part of an initiative called Project CETI (Cetacean Translation Initiative), which aims to record and decode the language of the sperm whale.
What sparked your initial interest in your career?
I have always been a big nut for marine biology ever since I was a child. I loved to think about all of the wonderfully weird creatures that live in our oceans (and how we know so little about them). I also have a profound love for engineering, which enables exploration in ways that even 100 years ago were merely fantastical stories. Technology that enables ocean exploration is therefore a happy fusion of these two passions.
Who influenced you or encouraged you the most?
Most definitely my family. My mom would always encourage me to ask questions when we went tide pooling or on nature walks through the national parks. These moments of exploration of the nature around me fueled my curiosity (and my sense of adventure). 
What element of your work / study do you think is the most fascinating?
Honestly, every dive is fascinating (yes, even mud)! It is truly fascinating and humbling to fly the vehicles on subsea terrains that in many cases no one has shone a light on before. That sense of constant adventure keeps me enthralled.
What other jobs led you to your current career?
In addition to my work as a contracting pilot, I have completed work as a graduate student researcher in the fields of Mechanical Engineering (Master's) and Materials Science and Engineering (PhD) at the University of California, San Diego. Prior to grad school, I worked in research labs as an undergraduate student at MIT, where I majored in Biological Engineering (with an emphasis in instrumentation).
What are your degrees and certifications?
PhD - Materials Science and Engineering - University of California, San Diego 2021; Master of Science - Mechanical Engineering - University of California, San Diego 2018; Bachelor of Science - Biological Engineering - Massachusetts Institute of Technology 2015
What are your hobbies?
I love writing poems, sketching silly cartoons, and dancing (salsa, tango, honestly most anything with a beat).    
What advice would you give to someone who wants to have a career like yours?
I would advise those who are interested in a path towards ROV piloting to get their hands wet or dirty in grease in any way possible, perhaps through afterschool robotics clubs (i.e., FIRST FRC) or developing technological skills through college or community college. And most importantly, to not give up on your dream of exploring. There are many winding (and at times branched) paths that lead to adventure and excitement, such as piloting an ROV. So, stay persistent and stay curious.
How did you get involved with the Nautilus Exploration Program? How did you get on the ship?
I started as an ROV intern with E/V Nautilus back in 2015. I did not have any prior experience with ROVs at the time, but I was deeply fascinated by both the technology and the incredible biology and geology of the sea floor. I have been contracting with E/V Nautilus ever since.
"Ever since I was a child, I have been fascinated by the dynamics of the ocean and the incredible wealth of life in just a tidepool. Many years later, this fascination still continues to thrive and I am very excited to grow my passion while sailing aboard Nautilus." 
Expeditions
Jessica participated in the following Ocean Exploration Trust expeditions: