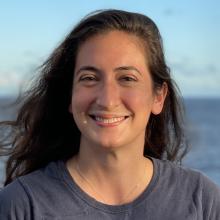 Jessica Sandoval
Hercules Pilot
Graduate Student
University of California, San Diego
Tell us about your work / research. What kinds of things do you do?
I am currently a Master's student at the University of California, San Diego working with Dr. Michael Tolley in the Bioinspired Robotics Lab. I am working on developing an underwater adhesive system to ultimately be utilized on ROV underwater archaeological recoveries. Some of my roles include design using computer modeling and simulations to actual fabrication. I also work on a robotic dress project in which my colleagues and I can program undulating movements on the surface of a dress using Shape Memory Alloy (SMA). 
What sparked your initial interest in your career?
I am fascinated by marine biology and the technology that allows us to observe and measure it. The ocean provides an imagination's playground in which there is much to be explored and discovered. This excitement of the not yet known definitely sparked my interest in ocean exploration. That and the incredible plethora of marine biodiversity that exists in our oceans. 
Who influenced you or encouraged you the most?
My family is one of the biggest sources of inspiration for me. When I was younger, they encouraged me to explore the tide pools and forests and to ask deeper, meaningful questions into why and how cycles worked. I most definitely inherited my thirst for knowledge and exploration from my family. 
What element of your work / study do you think is the most fascinating?
I think the most fascinating part is being able to explore the vast biodiversity found in our oceans. The ocean is so expansive and massive and has much which is yet to be explored. Just that thought alone drives me every day to continue to pursue a career in ocean exploration. 
What other jobs led you to your current career?
During my undergraduate career, I was a student researcher during which I developed prototypes for isolating nucleic acids from soil samples. I also performed field work as a student researcher, collecting water and soil samples from acid stream runoff from mines and volcanoes. I also founded and led the Air Spora Trapping and Recovery Operation team at MIT, for which we developed an electrostatic collection device to collect aerosolized biotic particles at high altitudes (~120,000 feet altitude). After graduation from MIT, I worked as an intern at Capta Hydro in Santiago, Chile, developing economic water velocity sensors. 
What are your degrees and certifications?
I hold a Bachelor's degree in Biological Engineering from the Massachusetts Institute of Technology (2015). I am currently pursuing my Master's degree in Mechanical Engineering at the University of California, San Diego. 
What are your hobbies?
I love the outdoors and dancing. I enjoy hiking, camping, tide pooling, staring at the sky, practically everything outdoors. Additionally, I am addicted to Argentine tango dancing and writing poetry.     
What advice would you give to someone who wants to have a career like yours?
I would give the advice to step outside of your comfort zone to try a new area of research or work. As I stated before, I had no experience with ROVs before applying as an intern, and now I am addicted to their function and the role they serve in the ocean exploration community. I would also advise to stay curious, for that curiosity will help propel you forward in your career. 
How did you get involved with the Nautilus Exploration Program? How did you get on the ship?
I started with the Nautilus Exploration Program as an ROV intern during the Galapagos Rift Platform of Summer 2015. I greatly enjoyed my time on the boat, learning of the different subsystems of the ROV and sharing stories with my fellow shipmates. Prior to my internship aboard the E/V Nautilus, I did not have experience working with ROVs but was rather studying instrumentation as a biological engineering student. It was this experience as an intern that made me fall in love with ocean exploration and has made me want to follow this path as a career.