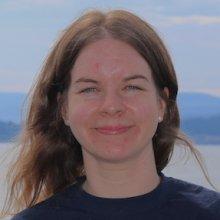 Jennifer Whyte
Communications / Documentarian
Online Content and Engagement Manager / Gestionnaire du contenu et de la mobilisation en ligne
Oceana Canada
Tell us about your work/research. What kinds of things do you do? / Parlez-nous de votre travail / vos recherches. Quels types de tâches effectuez-vous?
I work with the communications team at Oceana Canada, sharing information about the ocean and inspiring people to help protect it. I help manage our digital channels including social media, website and email outreach, working to grow our community and engage people in our campaigns to save the oceans and feed the world.
Je collabore avec l'équipe des communications d'Oceana Canada pour transmettre de l'information sur l'océan et inciter les gens à le protéger. Je participe à la gestion de nos canaux numériques, notamment les médias sociaux, le site Web et les communications par courriel, afin d'accroître notre communauté et d'intéresser les personnes à nos campagnes visant à sauver les océans et à nourrir la population mondiale.
What sparked your initial interest in your career? / Qu'est-ce qui a initialement suscité votre intérêt dans votre domaine professionnel?
I grew up camping and exploring nature which fostered a love for the outdoors and a passion for protecting the environment. I also love to swim and from a young age was fascinated by species that live in rivers, lakes, and oceans. My parents channeled this interest by putting me in synchronized swimming, bringing me one step closer to being a mermaid.
Plus jeune, je faisais du camping et je me promenais dans la nature. Cette expérience a favorisé chez moi un amour du plein air et une passion pour la protection de l'environnement. La nage est aussi une activité que j'aime. D'ailleurs, toutes les espèces qui vivent dans les rivières, les lacs et les océans m'émerveillent depuis que je suis toute jeune. Mes parents m'ont fait exploiter cet intérêt en m'inscrivant à des cours de nage synchronisée, grâce auxquels j'ai pu me rapprocher du statut de sirène.
Who influenced you or encouraged you the most? / Qui vous a influencé ou encouragé le plus?
My father, he would take me on epic camping trips deep into the woods, hiking and canoeing our way through Algonquin Park and to the bottom of the Grand Canyon.
Mon père m'organisait des voyages de camping extraordinaires au fond des bois. Nous y faisions de la randonnée et du canot dans le parc Algonquin ou au fond du Grand Canyon.
What element of your work/study do you think is the most fascinating? / Quel élément de votre travail ou de vos études est le plus fascinant selon vous?
Last March Oceana Canada worked alongside partners to explore the Central Coast of British Columbia. Taking a drop camera down below 200 meters, to areas never-before-seen. I spent a lot of my time talking with community members in Bella Bella and Klemtu about their connection to the ocean and the importance of rebuilding depleted fish populations.
En mars dernier, Oceana Canada a travaillé avec des partenaires pour explorer la côte centrale de la Colombie-Britannique. Une caméra lestée sera envoyée sous les 200 mètres vers des endroits jamais observés. J'ai passé beaucoup de temps à parler aux membres de ma communauté à Bella Bella et Klemtu de leur lien avec l'océan et de l'importance de rétablir certaines populations de poissons en déclin.
What other jobs led you to your current career? / Quels autres emplois vous ont amenés à votre carrière actuelle?
I worked as a camp counselor, inspiring kids to get outdoors and learn about nature. I also worked at Earth Rangers, a kids conservation organization.
J'ai travaillé comme conseiller de camp à inciter des enfants à aller à l'extérieur, apprendre des choses sur la nature. J'ai aussi travaillé pour Éco Héros, un organisme de conservation pour les enfants.
What are your degrees and certifications? / Quels diplômes et titres de compétences possédez-vous?
Bachelor of Arts in Sociology and Anthropology-- Wilfrid Laurier University, Digital Media Certificate-- Ontario College of Art and Design
B.A. en sociologie et anthropologie – Université Wilfrid Laurier, Certificat en médias numériques – Ontario College of Art and Design
What are your hobbies? / Quels sont vos passe-temps?
Biking (I commute across the city on my bike), hiking, swimming, practicing and teaching Ashtanga and Vinyasa yoga.
Faire du vélo (je fais la navette à travers la ville sur mon vélo), faire de la randonnée, nager, pratiquer et enseigner le yoga Ashtanga et Vinyasa.
What advice would you give someone who wants to have a career like yours? / Quel conseil donneriez-vous à quelqu'un qui souhaite faire la même carrière que vous?
Pursue what you love, even if it seems like divergent interests, opportunities will develop that bring them together.
Faites ce que vous aimez, même s'il s'agit a priori de disciplines divergentes, des opportunités se présenteront qui vous permettront de les associer.
How did you get involved with the Nautilus Exploration Program? How did you get on the ship? / Comment vous êtes-vous impliqué dans le Nautilus Exploration Program? Comment êtes-vous monté à bord du bateau?
Through Oceana Canada and the Pacific Seamount Expedition
Avec Oceana Canada et l'expédition dans les monts sous-marins du Pacifique Nord-Est,