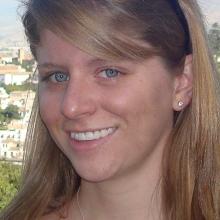 Jennifer Bline
ROV Pilot
Institute for Exploration
Jennifer Bline assists in ship mobilization efforts and is training to pilot the ARGUS remote‐operated vehicle system.
Jenn recently completed an internship abroad in Santander, Spain with IH Cantabria, assisting in computer‐simulated models demonstrating how waves react when approaching offshore structures. These computer models are being used to help improve current structures and to avoid potential problems from arising on future constructions. While Jenn is currently working out of industry, she is eager to reenter the field of ocean engineering.
Jenn completed a dual degree in ocean engineering and Spanish language and literature through the University of Rhode Island's International Engineering Program in May 2011.