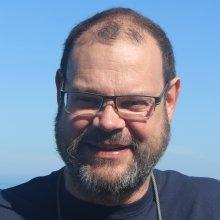 Jeff Dennerline
Video Engineer
Video Engineer
Tell us about your work/research. What kinds of things do you do?
I've been involved in entertaining, communicating and documenting stories and events via electronic means for over thirty years, from recording and producing radio commercials to being part of the video team that broadcasts Super Bowls, Oscars, and Olympics. 
What sparked your initial interest in your career?
I was a frustrated musician who realized that someone was needed to twist the knobs. 
Who influenced you or encouraged you the most?
My high school drama teacher was the first person to encourage me to do what I loved to do, not what others wanted me to do. 
What element of your work/study do you think is the most fascinating?
I'm always amazed at how far we can push technology. Smaller cameras, better resolution, more data thru the same size pipe, just when it seemed the limits of a technology has been reached we managed to improve it.
What other jobs led you to your current career?
My career has been wide-ranging, from working in recording studios to live PA work, theatrical and stage lighting, video production and post-production to the last couple of decades working on large scale live remote television productions. 
What are your degrees and certifications?
A couple years in technical school and then many years of on the job school of hard knocks.
What are your hobbies?
Flying, woodworking, reading, and music.
What advice would you give someone who wants to have a career like yours?
Learn the basics and understand that technology is changing all the time.
Expeditions
Jeff participated in the following Ocean Exploration Trust expeditions: