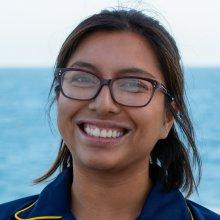 Jan Bautista
Science Communication Fellow
ELD Science Teacher
Everett Middle School
Tell us about your work / research. What kinds of things do you do?
I am a middle school science teacher that specifically teaches students that have recently immigrated to the United States and are Developing their English Language Skills. I specialize in modifying curriculum to be more English Language Learner focused and using science as a vehicle for motivating students to communicate their ideas in English.
What sparked your initial interest in your career?
I started out as premed student with a focus in pediatrics. After spending over 6 years interning in pediatrics clinics, child life programs, and hospital departments I realized that I wanted to be a more integral part of children's development instead of a once a year check up or only when their sick visit. I also discovered how much I loved talking about science and watching children's faces light up when they learned something new. I decided to apply to my university's graduate program for education and I graduated a second time from UC Davis with a Master of Arts in Education and a single-subject science credential. Several years later I am still learning more about the universe around us and sharing those learnings with my students and loving it.
Who influenced you or encouraged you the most?
My parents always encouraged me to learn as much as I can and found new ways to tap into my curiosity. Because of that, I have a tenacious drive to figure things out and ask questions. This is the same drive I try to instill in my students.
What element of your work / study do you think is the most fascinating?
The most fascinating element of my job is building the connections between my students' experiences in their lives and the science that I am trying to engage them in. Just teaching them and telling them to learn it isn't enough. My daily challenge is to figure out how to make what I am teaching important enough for them to want to figure it out. This requires me to learn more about my students and make the content fit them, and it pushes me to better understand the science so I can present it well to my students.
What other jobs led you to your current career?
I spent most of my college years doing different hospital internships in Child Life, Surgery, and Child Protective Services. I also did teaching internships in middle schools and high schools my senior year of college, then began teaching in the bay area my first year out of college. I finally made my way back home to San Francisco and will never leave the science education field. I firmly believe that there is always something new explore.
What are your degrees and certifications?
Bachelor of Science in Biology with an emphasis in Neurosciene, Physiology and Behavior -- University of California, Davis 2008; Master of Arts in Education -- University of California, Davis 2010
What are your hobbies?
I love hiking, camping, and rock climbing. I also love cuddling with my cat and watching anime. If you're lucky you'll get to try my home cooking, because I love cooking for others.
What advice would you give to someone who wants to have a career like yours?
First, if you want to become a teacher, you need to always put your students first. Figure out what your students need then figure out how you can help them. You have to figure out the two main boundaries, how much do they need and how much can I give. Don't overtax yourself but don't neglect your students either. Second, you need to pick a subject or topic that you are passionate about and love talking about, because if you can't stand learning or talking about something, why would your students stand for it either. Never give up, every day is a new day in a child's mind. 
How did you get involved in the Nautilus Exploration Program? How did you get on the ship?
I applied for the Science Communication Fellow position after learning about the Nautilus program from Eric Lewis, a Curriculum and Instruction Teacher in the Middle School Science Division at San Francisco Unified.
Expeditions
Jan participated in the following Ocean Exploration Trust expeditions: