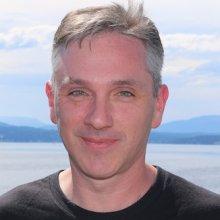 James Pegg
Science/Data Team
Visual Survey Coordinator / Coordonnateur des relevés visuels
Department of Fisheries and Oceans, Canada / Ministère des Pêches et des Océans du Canada
Tell us about your work/research. What kinds of things do you do? / Parlez-nous de votre travail / vos recherches. Quels types de tâches effectuez-vous?
I work with sub-sea vehicles such as remotely operated vehicles (ROVs), drop cameras, and most recently, ocean gliders. With a small number of staff members in our group doing this kind of work now (mostly just me), I do or have done almost everything related to these fascinating machines. I started managing data from our Phantom ROV and very quickly moved into piloting, maintaining, repairing, and upgrading it. I was the technical lead in developing our deep sea drop camera "BOOTS", an advanced drop camera that can go down to 2500m. I have used BOOTS on several surveys including seamount surveys where we explored some of the seamounts that we will revisit in this survey. Most recently I have been working with ocean gliders, battery operated independent robots that can operate on their own at sea, measuring water quality data such as temperature, salinity, and oxygen for months at a time. Because I have a background in biology, one of the things I do a lot is work with biologists to help them understand and get the most out of this advanced equipment.
Je travaille à l'aide de véhicules sous-marins, comme les véhicules sous-marins téléguidés (VTG), les caméras sous-marines et, plus récemment, les planeurs sous-marins. Étant donné le petit nombre de personnes dans notre groupe capables d'accomplir ce type de travail à l'heure actuelle (je suis pratiquement le seul), j'accomplis ou j'ai accompli pratiquement toutes les tâches liées à ces machines fascinantes. J'ai commencé par la gestion des données de notre VTG Phantom, et je suis rapidement passé au pilotage, à la maintenance, à la réparation et à la mise à niveau. J'étais le responsable technique dans le cadre de la création de nos caméras BOOTS d'observation du fond marin, un type de caméra sous-marine avancée qui peut descendre jusqu'à 2 500 m. J'ai utilisé les BOOTS pour plusieurs relevés, notamment dans les monts sous-marins, où nous avons exploré certains des monts sous-marins que nous retournerons voir dans le cadre de ce relevé. Plus récemment, j'ai travaillé avec des planeurs sous-marins, des robots indépendants à batterie qui peuvent fonctionner de façon autonome en mer pour mesurer des données sur la qualité de l'eau, comme la température, la salinité et l'oxygène pendant des mois. Fort de mes études en biologie, je travaille beaucoup avec des biologistes pour les aider à comprendre et à tirer le maximum de cet équipement avancé.
What sparked your initial interest in your career? / Qu'est-ce qui a initialement suscité votre intérêt dans votre domaine professionnel?
I have always been interested in building and fixing things. I started in biology after moving to the Queen Charlotte Islands/Haida Gwaii in high school, but in grad school found myself always fixing, modifying, and making my own equipment. When our group acquired a Phantom ROV and didn't stop me from piloting it every chance I got, I was hooked. I had been doing SCUBA diving surveys, but I was sold on the technology that not only let me see the same things while warm and dry on the boat but also amazing things much deeper that you cannot see SCUBA diving. I soon made myself indispensable and a position was created for me to work with the ROV and I have been doing this kind of work ever since.
J'ai toujours eu un intérêt pour la construction et la réparation. Après avoir déménagé aux îles de la Reine-Charlotte (Haida Gwaii) alors que j'étais au secondaire, j'ai commencé des études en biologie, mais à l'école des études supérieures, j'étais toujours en train de réparer, de modifier ou de concevoir mon propre équipement. Notre groupe a acquis le véhicule sous-marin téléguidé Phantom. Comme il ne m'a pas demandé d'arrêter de le piloter dès que j'en avais la chance, je suis devenu accro. J'avais fait des relevés en plongée autonome, mais j'étais conquise par la technologie grâce à laquelle je pouvais voir les mêmes choses qu'en plongée, mais qui me permettait de rester au chaud et au sec sur le bateau. En plus, elle me permettait de voir d'autres aspects incroyables encore plus profonds et imperceptibles en plongée autonome. Peu de temps après, je me suis rendu indispensable et un poste a été créé pour moi afin que je travaille avec le véhicule sous-marin téléguidé. Je fais ce genre de travail depuis.
Who influenced you or encouraged you the most? / Qui vous a influencé ou encouragé le plus?
My high school biology teacher in the Queen Charlotte Islands/Haida Gwaii and the island themselves got me interested in marine biology, but it was the now-retired senior ROV technician Wolfgang Carolsfeld who encouraged and helped me the most.
Mon professeur de biologie au secondaire dans les îles de la Reine-Charlotte/Haida Gwaii et les îles elles-mêmes m'ont intéressée à la biologie marine, mais c'est Wolfgang Carolsfeld, un technicien de véhicule sous-marin téléguidé maintenant à la retraite, qui a été ma plus grande source d'encouragement et de soutien.
What element of your work/study do you think is the most fascinating? / Quel élément de votre travail ou de vos études est le plus fascinant selon vous?
Continuously learning about new technology is fascinating, but the best part is that almost any part of the ocean that we explore with one of these vehicles has never been seen by any other human before and we are the first.
Apprendre constamment sur de nouvelles technologies est fascinant, mais la partie la plus passionnante est que presque toutes les zones de l'océan que nous explorons avec ces véhicules n'ont jamais été observées par des humains avant nous.
What other jobs led you to your current career? / Quels autres emplois vous ont amenés à votre carrière actuelle?
It wasn't a straight path to my current position. My first job was working at an automated radio station, late at night, dubbing old radio dramas, and I have done a variety of jobs including working as a lifeguard and swimming instructor, at a pet store, on a fish farm, in a fish health and diagnostics lab, doing stream surveys, as an environmental consultant, as a SCUBA dive technician, and as a data manager.
Je n'ai pas suivi un cheminement direct vers mon poste actuel. Mon premier emploi était dans une station de radio automatisée, tard le soir, pendant les vieux drames radiophoniques, et j'ai occupé toutes sortes d'emplois. J'ai été sauveteur, moniteur de natation, j'ai travaillé dans une animalerie et dans une exploitation aquacole, puis dans un laboratoire spécialisé dans la santé et les diagnostics qui concernent les poissons, j'ai fait des relevés dans les cours d'eau, et j'ai travaillé comme consultant environnemental, comme technicien de plongée et comme gestionnaire des données.
What are your degrees and certifications? / Quels diplômes et titres de compétences possédez-vous?
Bachelor of Science in Marine Biology ... twentieth century, Masters degree in Animal Science .. also sometime in the twentieth century - don't make me admit how old I am, there's probably a list around here somewhere, hold on a minute ...
B. Sc. en biologie marine, XXe siècle, maîtrise en zootechnie, également obtenue au XXe siècle – je ne vous dirai pas quel âge j'ai...
What are your hobbies? / Quels sont vos passe-temps?
Building and fixing things, no surprise. Those things include a 1973 VW camper van, a 1927, wooden sailboat and a garden and house that look that old, but really just need me to spend a little more time on them.
Construire et réparer les choses, pas de surprise. Ces choses sont, entre autres, un camion VW de 1973, un voilier en bois de 1927, ainsi qu'un jardin et une maison qui ont l'air tout aussi vieux, mais qui ont simplement besoin que je m'occupe un peu plus d'eux.
What advice would you give someone who wants to have a career like yours? / Quel conseil donneriez-vous à quelqu'un qui souhaite faire la même carrière que vous?
Try to figure out what you love to do and what you are good at. If you love what you do, it isn't really work.
Essayez de comprendre ce que vous aimez faire et les choses pour lesquelles vous êtes doué. Si vous aimez ce que vous faites, ce n'est pas vraiment du travail.
How did you get involved with the Nautilus Exploration Program? How did you get on the ship? / Comment vous êtes-vous impliqué dans le Nautilus Exploration Program? Comment êtes-vous monté à bord du bateau?
I have worked with the Chief Scientist for this survey on several previous surveys and will likely work with her on surveys in the future. This is the first survey in a long time where I am not responsible for making all the equipment work so it should be fun.
Dans le cadre de ce relevé, j'ai travaillé sur plusieurs relevés précédents avec la scientifique en chef et je travaillerai probablement avec elle sur d'autres relevés à l'avenir. C'est le premier relevé depuis longtemps dans le cadre duquel je ne suis pas responsable de faire fonctionner tout l'équipement, alors cela devrait être amusant.