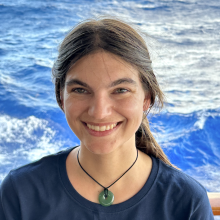 Hannah Paradis
She/Her
Science/ Data Team
Graduate Student
California State University Long Beach
Tell us about your work/research. What kinds of things do you do?
My field of study is a combination of geochronology, geochemistry, petrology, and volcanology. The volcanic basalts that my research is focused on come from seamount chains, specifically the Voyager Seamount lineament located northwest of Hawaii. These rocks were collected by a previous Ocean Exploration Trust expedition NA134 using the ROV Hercules. The goal of my project was to determine the ages of the Voyager Seamount track which is similar to the well-known Hawaiian/Emperor Seamount chain.  By analyzing and determining these ages, geologists can reconstruct past plate tectonic movement. Once the rock samples were sent to my laboratory, I sawed, cleaned, analyzed under microscopes, crushed, sieved, magnetically separated, and handpicked specific minerals needed for age determinations. Fortunately, I worked on these rock samples throughout each of those steps which allowed me to understand how tedious sample preparation is.
What sparked your initial interest in your career?
My curiosity for how organisms evolved and how gravity influenced our everyday life started in high school physics and biology classes. My high school science teachers always welcomed questions and encouraged hands-on experiments that perfectly captured how these organisms and principles functioned. Initially, I chose marine biology as my major because I loved learning about ocean creatures and believed in the importance of preserving ocean life. 
However, during my freshman science orientation, the geology department gave their presentation and I realized that's what I wanted to do. After their presentation, I switched my major, and developed a passion for geology. I loved learning about the geologic history and understanding how and why the Earth evolved. After undergrad, I wanted to focus on igneous rocks, and reading the proposal for my project that included volcanic seamounts was the perfect opportunity for me.
Who influenced you or encouraged you the most?
My family and close friends have always been supportive of my passion for geology. They refer to me as the "girl who loves rocks," which I appreciate. I always tell them to take pictures of any rock formation that looks cool. My mentors, professors, and high school teachers have inspired me the most. I am fortunate to be taught by people who I admire so much. I am constantly learning and growing as a scientist. I could not be more thankful for all these people in my life.
How did you get involved with Ocean Exploration Trust and become part of the expedition team?
Previously my mentor, Dr. Andrea Balbas, was a science lead for a previous Ocean Exploration Trust expedition, and she explained how it would be a wonderful opportunity for my research. I got in touch with the OET science team and asked about opportunities in the future.
What element of your work/study do you think is the most fascinating?
The most fascinating thing about being a graduate student in geology is realizing that not much is known about the Earth, especially its oceans. I was shocked to learn that only a handful of seamounts have been studied, so some of their origins are a mystery. I also love meeting and sharing ideas with other geologists in different fields of study. I am always intrigued to hear different points of view from multiple branches of geology.
What other jobs led you to your current career?
When I was an undergraduate student, I was able to work under Dr. Clift, Dr. Bart, and Dr. Karunatillake at Louisiana State University. I was involved in a range of different projects around the world like the Ross Sea in Antarctica, Mars, and the Indus River in Asia. I wanted to experience and learn from multiple branches of geology, determining which one I liked more. Unfortunately because of Covid-19, a lot of my research had to be put on hold because we could not travel. I am so thankful to my professors for pushing me to become a better researcher and adapt when unplanned changes occur.
What are your degrees and certifications?
Bachelor of Science in Geology - Louisiana State University 2022
I am working on another degree now!
What are your hobbies?
I love watching movies, TV shows, and YouTube. Also, I love reading fiction novels, hanging out with friends, listening to Taylor Swift, and of course traveling. My favorite movie is "I Origins" which tackles religion vs. science in a unique and beautiful way. My favorite tv show is Nathan For You which is a comedy show that never fails to make me laugh. I love watching fashion youtube channels which inspire my passion for fashion. My favorite part about traveling is seeing different environments and how they interact with the rocks that formed these places.
What advice would you give someone who wants to have a career like yours?
If you wanted to go into geology, my advice would be to attend office hours and talk with your professor. I realized that if your professors see you trying to do better, they will be more willing to help you. I am extremely shy in a class setting, but having office hours makes me feel more confident in myself. Another piece of advice is to make friends with your classmates and go to networking events like career day on campus.
Expeditions
Hannah participated in the following Ocean Exploration Trust expeditions: