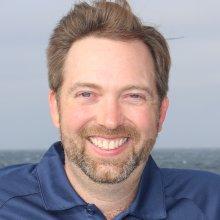 David Cummins
Guest
Instructor
Alpena Community College
Tell us about your work/research. What kinds of things do you do?
I teach Marine Technology and Mechanical Design Technology for a small Northern Michigan college. For marine technology, I teach and work with technologies mainly related to underwater robots such as Hercules and Argus. I also teach mechanical design where we use 3D modeling software and hands-on skills to design and test new ideas. In the class, my students and I bring these together to design and build underwater robots to explore local shipwrecks. Some of the most fun we have is going out to new sights with our industrial underwater robot and record and document the sight for our community and archaeologists. 
What sparked your initial interest in your career?
I have always loved the water from growing up by the Great Lakes to watching Sunday television specials with Jacques Cousteau. As a child, my dad would tell me stories about diving in Hawaii and the amazing coral reefs. From an early age, I developed a fascination with boats, electronics, computers, and how things work. Being from the mid-west though, the thought of a career on the water never occurred to me. So, I pursued an education and career in mechanical design. I worked as an industrial programmer to a product manager until I had a chance to switch to education. This is when I first heard of an underwater robot competition and started to integrate it into my classes. This interest and my background in technology yielded me an opportunity to develop a Marine Technology program. Since that time it has been an amazing few years and I have learned and done things I never imagined I would do in my life. Best of all I get to do everything my mom told me not to do, throw electronics, computers, and high voltage into the water!
Who influenced you or encouraged you the most?
My community has influenced me the most. The staff at Thunder Bay National Marine Sanctuary and my boss at Alpena Community College have encouraged me to pursue my vision and helped me connect with other key people. The other key for me is my wife's constant backing and encouragement.
What element of your work/study do you think is the most fascinating?
I love taking new technologies and applying them in ways that bring back to our community. It's fun to learn and create new technologies but, extremely awarding when that technology is used to create a documentary or provide a researcher with new information!  
What other jobs led you to your current career?
I started out not even being aware of career opportunities on the water. I pursued a degree in Mechanical Engineering Technology and got my first job as a programmer for industrial automated equipment. I then worked as a product manager for a tooling company. After this, I went back to school and ran my own business to help pay my way through graduate school. Through great fortune, I started working as a product engineer in Northern Michigan on the shores of Lake Huron. I then did a career shift to education when Design Instructor position opened at our local community college. All of my previous experience then converged when I was offered the position to start a Marine Technology Program. I now use all my skills from my previous careers along with my passion for the water. 
What are your degrees and certifications?
Bachelor of Science in Mechanical Engineering Technology – Central Michigan University (CMU); Masters of Arts in Industrial Management – (CMU); Certified as SolidWorks Professional; Certified PADI Advance Open Water Diver.
What are your hobbies?
I love to kayak, travel to a different port with our family in our boat, snorkel, and dive. On land, I like to fix and restore almost anything mechanical and/or electrical. 
What advice would you give to someone who wants to have a career like yours?
The best advice I can give you is to pursue your dreams and believe in yourself! Do not let anyone tell you, you cannot do it. You only have one life; this is not a dress rehearsal!
When I graduated high school, I made the top half of my class possible with my grades. I told myself you can do it and I made reaching my goals top priority. I now hold a master's degree and I am serving aboard the E/V Nautilus. You can do it too!
How did you get involved with the TBNMS project with OET?
As an instructor of unmanned underwater and aerial remote robotics, I have worked closely with TBNMS over the years. They have given me and my student's many amazing opportunities for hands-on learning. 
Expeditions
David participated in the following Ocean Exploration Trust expeditions: