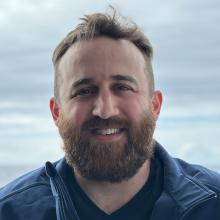 Daniel Freitas
Navigator, Mapper
Owner
DCF Consulting LLC
Tell us about your work/research. What kinds of things do you do?
The majority of my work consists of multibeam acquisition and data processing. I specialize in multibeam data acquisition and processing. I also work with several survey types of software and equipment.This work includes the mobilization and operation of multiple types of sonar equipment. I have travelled all over the world for work on several kinds of vessels and project objectives, as well as completed several remote data processing work.
What sparked your initial interest in your career?
I worked for NOAA as a General Vessel Assistant for over three years in the augment pool while attending Coastal Carolina University, where I studied marine biology and applied mathematics. I have always been fascinated with the marine and freshwater ecosystems and the mechanics of these environments. The majority of these environments are still unexplored and this fueled my passion of discovery.
Who influenced you or encouraged you the most?
Many of my college professors were very encouraging that my field of work is critical in understanding the world we live in. They always pushed me to keep learning and exploring, which is why I continue to work with other people and other companies to bring light to these unexplored areas.
What element of your work/study do you think is the most fascinating?
Some of the most fascinating aspects of my job are working alongside several organizations and people to explore the unexplored environments, and discover new species and knowledge. One of the organizations I have and continue to work with is the Global Foundation for Exploration. Together we map and explore new areas using their 2 vehicle ROV system to collect biological, geological, and video samples. I have also recently worked with several companies to conduct UXO (Unexploded ordinances) surveys to ensure the safety of exploration operations and planned ground works.
How did you get involved with the Ocean Exploration Trust?
I was contacted and invited by a former co-worker and friend to join the OET team and help the mission.
What other jobs led you to your current career?
I worked for NOAA as a General Vessel Assistant for over three years in the augment pool while attending Coastal Carolina University, where I studied marine biology and applied mathematics. Over the last eleven years, I have worked in the deck, engineering, and survey departments aboard many NOAA vessels. In 2014, I accepted a permanent position in the Deck Department aboard NOAA Ship Okeanos Explorer. I was a permanent crew member for 1.5 years before becoming an independent contractor. For the last seven years, I have worked as an independent contractor via the University Corporation for Atmospheric Research on Okeanos Explorer, supporting the NOAA Ocean Exploration mapping team. My time aboard consists of acting as a mapping watch lead, helping train and direct explorers-in-training, and working with the Chief Survey Technician and other crew members to ensure the ship's operations are completed. I have also worked with several other survey companies, such as Terrasond, Alpine, Ocean Infinity, and MMT. During these employments I have worked with several kinds of mapping software and equipment; while specializing in multibeam acquisition and data processing.
What are your degrees adn certifications?
Bachelors of Science in Marine Biology minor in Applied Mathematics -- Coastal Carolina University 2014.
What are your hobbies?
I love to spend my free time outdoors hiking and exploring. My favorite hobbies are scuba diving, golfing, and cooking.
What advice would you give someone who wants to have a career like yours?
If you would like to go into marine biology or GIS information systems, then learn every aspect of the field. Spend time in the field working and learning about everything from biological sample collection to the engineering aspects of how ships run/function. Knowing more about how much work goes into a project will greatly benefit not only you but your entire operation. Having the background knowledge of ship/offshore operations gives you a better perspective of how to best obtain the data you're searching for; whether it's "life at sea" or the available technologies/vessel to assist your mission.
Expeditions
Daniel participated in the following Ocean Exploration Trust expeditions: