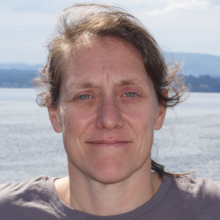 Dana Haggarty
Science/Data Team
Inshore Rockfish and Lingcod Program Head / Directrice du Programme sur le sébaste côtier et la morue-lingue
Fisheries and Oceans Canada / Pêches et Océans Canada
Tell us about your work/research. What kinds of things do you do? / Parlez-nous de votre travail / vos recherches. Quels types de tâches effectuez-vous?
I study the Ecology, Conservation and Population Biology of nearshore fishes such as rockfishes and Lingcod. My PhD. work focused on the recovery of rockfish populations in Rockfish Conservation Areas (RCAs). My current projects focus on modeling rockfish habitat, the recovery of Yelloweye Rockfish populations, rockfish barotrauma, and Lingcod stock assessment. I collaborate with international partners, industry, academics, ENGOs and First Nations on longline and Remotely Operated Vehicle (ROV) surveys to monitor and assess fish populations and their habitats.
J'étudie l'écologie, la conservation et la biologie des populations de poissons du littoral tels que les sébastes et la morue-lingue. Ma thèse de doctorat a porté sur le rétablissement des populations de sébaste dans les aires de conservation du sébaste (ACS). Mes travaux actuels portent sur la modélisation de l'habitat du sébaste, le rétablissement des populations de sébaste aux yeux jaunes, les barotraumatismes du sébaste et l'évaluation des stocks de morue-lingue. Je collabore avec des partenaires internationaux, l'industrie, des universitaires, des organisations non gouvernementales de l'environnement et les Premières Nations à la réalisation de relevés à la palangre et par véhicule sous-marin téléguidé (VTG) visant à surveiller et à évaluer les populations de poissons et leurs habitats.
What sparked your initial interest in your career? / Qu'est-ce qui a initialement suscité votre intérêt dans votre domaine professionnel?
I have always had an affinity for water and an interest in Biology. As a small child, my nickname was "The Little Fish" due to my love of swimming. This love developed into competitive swimming, working as a lifeguard and swim coach, and eventually SCUBA diving. Directly after high school, I began studying to be a marine biologist at the University of Victoria.
J'ai toujours été attirée par l'eau et la biologie. Quand j'étais toute jeune, mon surnom était « le petit poisson » en raison de ma passion pour la nage. J'ai continué de vivre cette passion par la nage de compétition, par mon travail comme sauveteuse et entraîneuse de nage et, plus tard, par la plongée autonome. Dès que j'ai terminé mes études secondaires, j'ai commencé mes études en biologie marine à l'Université de Victoria.
Who influenced you or encouraged you the most? / Qui vous a influencé ou encouragé le plus?
I've had many wonderful teachers and professors over the years, most notably professors who taught me and with whom I've worked at the Bamfield Marine Science Centre. My major professors from my M.Sc. and Ph.D., Dr. Michael Healey and Dr. Jon Shurin, have been most influential.
Au fil des ans, j'ai eu plusieurs enseignants et professeurs merveilleux. Particulièrement, ceux qui m'ont enseigné et avec lesquels j'ai travaillé au Bamfield Marine Science Centre. Mes professeurs principaux lors de ma maîtrise et de mon doctorat, Michael Healey et Jon Shurin, ont eu la plus grande influence sur moi.
What element of your work/study do you think is the most fascinating? / Quel élément de votre travail ou de vos études est le plus fascinant selon vous?
I am a true fish geek! I love fishes; almost all fishes (except for hagfish which are gross)! The diversity and complexity of rockfishes, my favorite group of fishes, amazes me and I am fortunate that I get to work on a daily basis.
Je suis une véritable maniaque des poissons! J'adore les poissons, presque tous les poissons (sauf la myxine qui est repoussante)! La diversité et la complexité des sébastes, mon groupe préféré de poissons, me fascinent et j'ai la chance de travailler dans ce domaine tous les jours.
What other jobs led you to your current career? / Quels autres emplois vous ont amenés à votre carrière actuelle?
Almost all of my training and jobs have been related to the conservation and monitoring of the marine environment, such as working with the Living Oceans Society and Reef Environmental Education Foundation (REEF) to expand REEF's monitoring protocols into BC waters and working as DFO's Strait of Georgia Lingcod Biologist. I did, however, work for two years as the Ecosystem Scientist for Nahanni National Park Reserve in Canada's Northwest Territory, where I developed monitoring programs to evaluate the state of Ecological Integrity in the park's alpine, forest, river, wetland, and glacier ecosystems.
Presque toute ma formation et tous les emplois que j'ai occupés ont un lien avec la conservation et la surveillance de l'environnement marin, comme lorsque je travaillais pour la Living Oceans Society and Reef Environmental Education Foundation (REEF), à étendre ses protocoles de surveillance jusqu'aux eaux de la Colombie-Britannique, et lorsque je travaillais comme biologiste pour le MPO en tant que spécialiste de la morue-lingue du détroit de Georgie. J'ai, cependant, travaillé pendant deux ans comme scientifique spécialiste des écosystèmes pour la réserve du parc national du Canada Nahanni, dans les Territoires du Nord-Ouest, où j'ai élaboré des programmes de surveillance pour évaluer l'état d'intégrité écologique des écosystèmes alpins, forestiers, ainsi que ceux des rivières, des marécages et des glaciers.
What are your degrees and certifications? / Quels diplômes et titres de compétences possédez-vous?
Bachelor of Science in Biology and Environmental Studies, University of Victoria, 1997;
Masters of Science in Zoology, University of British Columbia, 2001;
Doctorate in Zoology, University of British Columbia, 2015.
B. Sc. en biologie et en études environnementales, Université de Victoria, 1997;
M. Sc. en sciences de la zoologie, Université de la Colombie-Britannique, 2001;
Doctorat en zoologie, Université de la Colombie-Britannique, 2015
What are your hobbies? / Quels sont vos passe-temps?
In my spare time, I love kayaking, yoga, playing squash, knitting, and exploring the outdoors with my children and dog.
Durant mon temps libre, j'adore faire du kayak, du yoga, du squash, du tricot et profiter du grand air avec mes enfants et mon chien.
What advice would you give someone who wants to have a career like yours? / Quel conseil donneriez-vous à quelqu'un qui souhaite faire la même carrière que vous?
If you want to be a marine biologist, look for opportunities like internships and field courses that get you out, in the field, collecting or helping to collect data. Field stations like the Bamfield Marine Science Centre are great places to look for these experiences.
Si vous voulez devenir biologiste de la vie marine, cherchez des stages et des cours sur le terrain qui vous donnent une expérience pratique et vous permettent de collecter des données ou de participer à leur collecte. Les stations de terrain comme le Bamfield Marine Science Centre sont d'excellents endroits pour ce type d'expérience.
How did you get involved with the Nautilus Exploration Program? How did you get on the ship? / Comment vous êtes-vous impliqué dans le Nautilus Exploration Program? Comment êtes-vous monté à bord du bateau?
As a post-doctoral researcher, I worked on a project to model community patterns on Bowie Seamount and to help develop monitoring programs for the Sgaan Kinghlas-Bowie Seamount (SKB) MPA. When the opportunity came up to go to the SKB MPA to collect additional data, I jumped on board!
En tant que chercheur postdoctoral, j'ai travaillé sur un projet visant à modéliser les profils des communautés du mont Bowie et j'ai aidé à l'élaboration de programmes de surveillance de la zone de protection marine (ZPM) du mont sous-marin SGaan Kinghlas-Bowie (B-SK). Lorsque j'ai eu l'occasion d'aller dans la ZPM B-SK pour récolter des données supplémentaires, j'ai sauté sur l'occasion!