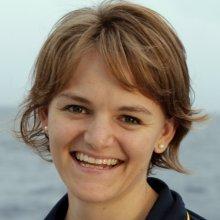 Clara Smart
Navigator
Graduate Research Assistant/Student
University of Rhode Island
Clara is a PhD student at the University of Rhode Island working with Dr. Chris Roman developing techniques and sensors for high resolution seafloor mapping. Her current research is focused on detecting active diffuse seafloor venting using the structured light imaging sensor. She is looking forward to gathering and analyzing data from the active vent sites the Nautilus will visit this summer and fall. This will be her fourth season aboard E/V Nautilus and will be working as both a navigator and high resolution mapping specialist. 
Prior to entering URI in the fall of 2010, she completed a B.S. in Electrical Engineering at Northwestern University, where she also participated in the co-op program. During the summer of 2009, she was awarded a Woods Hole Oceanographic Institution Summer Student Fellowship which allowed her to gain further understanding of deep ocean imaging and research through work with Dr. Hanumant Singh. In 2013 she completed her masters in ocean engineering at URI, which formed the basis for her PhD work.
"I can't wait for the new adventures that another season at sea will bring!"
Expeditions
Clara participated in the following Ocean Exploration Trust expeditions: