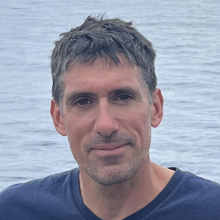 Tell us about your work/research. What kinds of things do you do?
I worked for 20 years for survey operations worldwide.
Surveyor for a coastal survey and environmental costal studies in France was my first experience. Seafloor mapping with MBES and SSS, water/sediment/bio sampling, commercial diver, for 6 years.
Then I get on board for a Deep shipwreck search for 11 years. Search and salvage with custom SSS and ROV rating 6000m depth. Playing with treasure all over the world was great!!
I couldn't stop the wreck search and salvage so I worked for Ocean Infinity for 2 years, using Hugins AUV and ASV boats.
Today I want to specialize in the autonomous world with iXblue and became a Drix pilot 2,5 years ago. Love that!
What sparked your initial interest in your current career?
I wanted to work at sea with high-tech. I am interested in understanding how oceans work and I'd like to protect them.
Who influenced you or encouraged you the most?
The place I grow up and my parents
What element of your work/study do you think is the most fascinating?
Wreck search in the middle of the ocean with 20000 feet depth
What are your degrees and certifications?
Bachelor of Science in Coastal management and Marine Science
What are your hobbies?
Windsurf/Kitesurf/Kayak/Sailing/Diving/Swimming