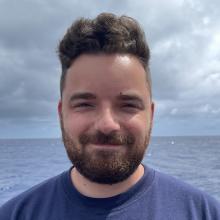 Avery Munoz
He/Him
Drix Team
Research Engineer
University of New Hampshire
Tell us about your work/research. What kinds of things do you do?
I work as an engineer on the autonomous surface vehicle project developing control systems and tools to assist research.
What sparked your initial interest in your career?
I started out in marine robotics after a long career participating in, running, and mentoring a FIRST Robotics team. While studying CS at Wentworth Institute of Technology, I was pointed toward an internship at Woods Hole Oceanographic Institute as a way to continue my passion for working in robotics. I worked for a short time in a lab at WHOI focused on under-ice oil detection AUVs, which really inspired me to focus my career in marine robotics.
Who influenced you or encouraged you the most?
My mentors in FIRST robotics were some of my earliest inspirations, many of them working in the industry on projects they had long been passionate about. They really pushed me to find a way to continue working in robotics after graduating.
What element of your work/study do you think is the most fascinating?
I think the most fascinating part of what I do is the freedom to develop systems for ASV support, and then actually go into the field and use them.
What other jobs led you to your current career?
I worked in an AUV lab while in college where I was able to participate in under-ice oil detection work which was extremely fascinating and really opened my eyes to all the different situations where robotic systems are deployed.
What are your degrees and certifications?
B.S. in Computer Science from Wentworth Institute of Technology 2021
What are your hobbies?
Hiking, disc golf, mechanical keyboards, video games, and working on my car are just starting to scratch the surface!
What advice would you give someone who wants to have a career like yours?
I'd recommend for anyone who wants to go into robotics work, to keep an open mind! There are robots all around us and in industries that you'd never expect, just because ATLAS gets a lot of attention doesn't mean Boston Dynamics is the only cool robotics company out there!