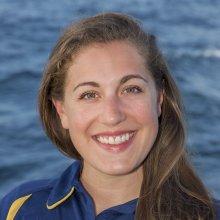 Ashley Marranzino
Science/Data Team
Aquaponics Research Assistant/Part-time instructor
Armstrong State University
Tell us about your work / research. What kinds of things do you do?
I study how fish are able to sense their environment in the deep sea. Because the deep sea is such an extreme environment with so little light, my research examines how deep-sea fishes have evolved and what adaptations allow them to survive and find prey, predators, and mates. Right now, we are not able to keep deep-sea fishes alive in labs to study their behaviors like we do some shallow water fishes. Instead, my research is done on fish caught at sea and brought back to the lab as preserved specimens. By studying the anatomy and morphology of the fishes we can infer how they might be able to behave in their natural environment. With vehicles like Hercules and Argus, we are sometimes very lucky and able to actually observe some behaviors in nature!
What sparked your initial interest in your career?
When I turned 10 years old, my parents realized I was finally old enough to get SCUBA certified. They eagerly dusted off their wet suits and took me to the Caribbean to go on a dive vacation. From the instant I took my first breath underwater I was hooked. I was enamored with the lively coral reef ecosystem full of beautiful fishes and elaborate coral structures. I spent as much time as possible learning about marine organisms and have yet to get tired of the remarkable creatures that call the ocean home. 
Who influenced you or encouraged you the most?
My parents have always been my biggest fans. They have always encouraged me to pursue my passion. 
What element of your work / study do you think is the most fascinating?
I love looking at deep-sea fish specimens under a microscope. We know so little about these incredible animals - it is mind-blowing to study the anatomy and morphology of these fishes that are capable of living in such an extreme environment. 
What other jobs led you to your current career?
I am still finding my way towards a career! As an undergraduate student, I volunteered and interned in several labs to get an idea of the types of research I liked and disliked. I worked in a genetics lab and interned at an aquarium and then at the Marine Biological Laboratory conducting research on fish sensory systems. All of my coursework and lab work has given me a better idea of what I like, but I am still trying to figure out exactly what I want to be when I grow up!
What are your degrees and certifications?
Bachelor of Science in Biology, emphasis in Ecology and Evolution – Regis University 2013; Masters of Science in Biological and Environmental Sciences – University of Rhode Island 2016; Rescue SCUBA certified
What are your hobbies?
I like being outdoors – hiking, swimming, and riding bikes. When I'm not in the water for my own research, I like to go SCUBA diving recreationally as well.
What advice would you give to someone who wants to have a career like yours?
If you want to be a marine biologist, figure out what type of biology you enjoy. You may not always be able to work on your favorite animal (especially if it is a dolphin or a whale!) but if you find a discipline you enjoy, you have a better chance at applying your skills in that field towards your favorite animal someday. Work hard, make as many connections as you can, and be persistent. And finally, learn to talk to the public - we need more scientists who can communicate to non-scientists to get them excited about what we do!
How did you get involved with the Nautilus Exploration Program? How did you get on the ship?
I have been watching Nautilus dives since I was pursuing my undergraduate degree. When I was a graduate student, I learned about the internship program on the ship, applied, and (thankfully!) accepted. I went out to see for the first time in 2016 and was fortunate enough to be invited back as a member of the science team.  This is my third season sailing with Nautilus.