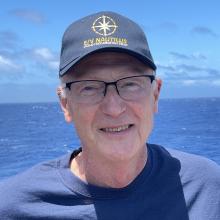 Andy Armstrong
Science/Data Team
NOAA Co- Director of the NOAA/University of New Hampshire Joint Hydrographic CenterNOAA and University of New Hampshire
NOAA Office of Coast Survey and University of New Hampshire
Tell us about your work/research. What kinds of things do you do?
I'm a hydrographer in NOAA's Office of Coast Survey. There are different definitions of hydrography used in the ocean science community; the original definition of hydrography, and the one that describes my work, is "the science that measures and describes the physical features of bodies of water and the land areas adjacent to those bodies of water." Hydrography is often associated with the measurement and display of depths on nautical charts for safe navigation. We often also use the term "ocean mapping" for our work, especially when the measurement and description we are doing is for purposes beyond safe navigation.
What sparked your initial interest in your career?
I grew up living near the ocean in San Diego California, San Juan Puerto Rico, and Miami Florida. My free time was spent, boating, fishing, and diving. After completing a B.S. in geology in college, I was commissioned into the U.S. Navy, and spent 4 years on Navy sea duty. After those 4 years, I was given an opportunity to combine my education in geology with my Navy experience in seamanship by shifting my commission from the Navy to the NOAA Corps, and hydrography seemed like--and has been--the ideal combination of the two.
Who influenced you or encouraged you the most?
I have had great mentors, from middle school and high school teachers to university professors, to Navy and NOAA leaders, to shipmates, and colleagues.
What element of your work/study do you think is the most fascinating?
The most fascinating part of hydrography and ocean mapping is the revelation of the seabed as our mapping proceeds and as our mapping and charting products are developed. Our ability to see the ocean floor with our eyes is limited to areas of shallow clear water or to small areas of deep water using a submersible, but with echo sounders and bathymetric lidar, and with an understanding of how to turn those observations into images and maps, we can reveal the entire seafloor. There is a lot of seafloors yet to be revealed, and that is what hydrographers and ocean mappers do
What other jobs led you to your current career?
My current career has pretty much been my whole career. In my many years with NOAA, I have been a hydrographer in the NOAA Corps, and since my retirement from the NOAA Corps, I have been a civilian NOAA hydrographer and ocean mapper at the Joint Hydrographic Center at the University of New Hampshire.
What are your degrees and certifications?
Bachelor of Science in Geology, Tulane University; Master of Science in Technical Management, The Johns Hopkins University
What are your hobbies?
My favorite hobbies are fishing and bicycling
What advice would you give someone who wants to have a career like yours?
Prepare yourself academically with a strong math and science focus in high school and college, and then focus on doing work on or in the ocean that you enjoy. Learn about how the ships, boats, and platforms you work from operating, and how to operate them--they are a critical part of the systems used for ocean mapping
How did you get involved with the Ocean Exploration Trust?
The Center for Coastal and Ocean Mapping and Joint Hydrographic Center have been working with and supporting OET with ocean mapping expertise for several years. I'm really excited that because of the mission of this expedition and the systems we will be using, I am finally getting the opportunity to join a Nautilus expedition at sea.