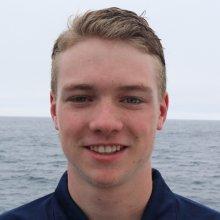 Alex Simpson
Navigation Intern
Undergraduate
United States Coast Guard Academy
Tell us about your work / research. What kinds of things do you do?
I am a cadet at the United States Coast Guard Academy. During the school year, I major in Marine Biology and Physical Oceanography. During the summers, I go to operational Coast Guard units around the country to increase my professional and operational knowledge. 
What sparked your initial interest in your caraeer?
I attended high school on Cape Cod. While there, I was able to experience the beauty of the ocean in a variety of ways. The Coast Guard was the best way for me to serve my country and receive a top-notch education in a field that I am passionate about.
Who influenced you or encouraged you the most?
My high school and college instructors have always inspired to me to work to my full potential.
What element of your work / study do you think is the most fascinating?
The best thing about studying marine science is that there is so much more to it. 
What other jobs have led you to your current career?
I have, in the past, volunteered at Woods Hole Oceanographic Institution and the National Marine Life Center in Buzzards Bay, MA. These opportunities allowed me to look into marine science related careers and help me plan my future.
What are your degrees and certifications?
Working towards a Bachelor of Science in Marine and Environmental Sciences.
What are your hobbies?
I am a competitive swimmer. I enjoy listening to music and hiking (preferably when it's warm).
What advice would you give to someone who wants to have a career like yours?
My advice is to never limit yourself or think that something is not worth learning. You can never hurt yourself by learning too much. You never know what will help you down the line in ways you could never expect.
How did you get involved in the Nautilus Exploration Program? How did you get on the ship?
I applied for the Nautilus navigation internship through my school as a way to combine my passion for marine science with my knowledge and experience with the maritime community.
Expeditions
Alex participated in the following Ocean Exploration Trust expeditions: